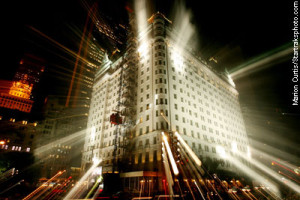 (picture courtesy the NY Post)
Scandalous, I know, but I was out of town on Monday and missed the 100th anniversary party for The Plaza Hotel, the famous French Renaissance playground-lodge for the rich, very rich and famous. It seems wrong not to have had at least one Bowery Boy there. Oh well.
The Plaza officially turned 100 on Monday (that is, it opened its door to the public on Oct 1, 1907) with a lavish light and fireworks show prepared by its new owners Elad Properties. They're mostly finished with a renovation plan that had managed to save its legendary Oak Room and the Palm Court while installing condos in much of the building.
I heard there was a lot of commotion there — cake, Martha Stewart and Paul Anka! — and in fact many events there have certain stirred up the New York social pool in the past — Truman Capote and his Black and White Ball, the wedding of Michael Douglas and Catherine-Zeta Jones.
But nothing has come close to the ruckus of Feb. 7, 1964. While the Plaza's most famous residents were 'regular' guests F. Scott Fitzgerald (real) and Eloise (fictional), it was the Beatles arrival there that created a most memorable frenzy.
The Fab Four took up on entire wing there while in town to perform on the Ed Sullivan show and do some recording at Capitol Records. (They also travelled to Washington and Miami for concert appearances.) Everywhere they went — from JFK to the Plaza, over to Carnegie Hall and later to Penn Station — they were met with hundreds of fans and young women driven to the brink of madness.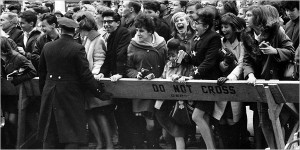 According to the book "Markets, Mobs & Mayhem: A Modern Look at the Madness of Crowds" : "The Plaza …. is one of the most sedate hotels in New York. the Plaza was petrified. [They] accepted the Beatles' reservation months ago, before knowing it was a rock-and-roll group that attracts teenage riots….. The screams started as soon as the frist limousine came into view… Old ladies ran up and touched the Beatles on their amrs and backs as they ran up the stairs."
Here's one of the more intreguing pictures taken at their press conference. The band gets 'analyzed' by the Dr Joyce Brothers: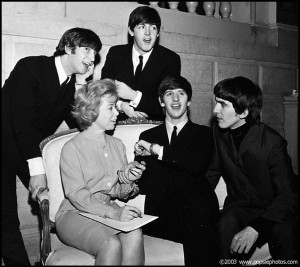 The Plaza recovered and sunk back to its 'mere' position as New York's toniest hotel. But they were supposed to see the Beatles once more, at the end. The four members were slated to appear one last time there ten years later to 'officially' dissolve the group. But John Lennon — at home just up the way at the Dakota — never showed up.
According to Paul McCartney: "He wouldn't come across the park! He had a balloon delivered with a sign saying 'Listen to this balloon.' It was all very far out."
An excellent survey of photographs of the Beatles stay at the Plaza can be found here.
Below, a couple of Beatles fans wish them off at JFK Airport: