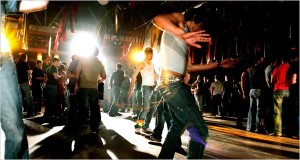 To get you in the mood for the weekend, every Friday we'll be celebrating 'FRIDAY NIGHT FEVER', featuring an old New York nightlife haunt, from the dance halls of 19th Century Bowery, to the massive warehouse spaces of the mid-90s. Past entries can be found HERE.
Most New York nightclubs rarely see get past one dance craze before shuttering, their popularity passed to another disposable club. The Roxy, however, kept the mirrorball turning for over 25 years, bringing to light world famous deejays, breakdancing motion pictures, and its biggest claim to fame — roller-disco.
Roller-disco was disco dancing taken to the level of near-sport, tight pants and tube-tops whizzing by to the beat of Donna Summer. The Roxy was one of several roller-discos in late 70s New York, but Roxy was its finest — judging by its nickname 'the Studio 54 of rollerdisco' — and was destined to become the last one standing. Owner Steven Greenberg, who would later manage the storied Palladium, turned a 60-year-old warehouse into a hangar-sized fantasia for skaters. With very few other rooms to carry about in, all focus was on the massive floor, filled with people on wheels.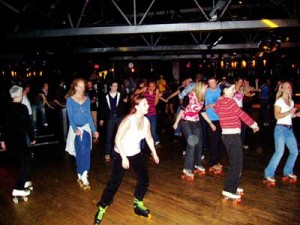 Roller-disco quickly waned, though most of the Roxy's later history would feature at least one roller night, all the way up to the end. However during the 80s, the Roxy would be chiefly occupied by another dance craze — breakdancing. 
One of the many deejays of this period was Afrika Bambaataa who brought the style and energy of his Zulu Nation into the club. Known for breaking hip hop into white venues and creating the electro-funk sound, Bambaataa remade the Roxy as a centerpiece to freeform early 80s hip hop culture. Go out and rent the pivotal breakdancing film 'Beat Street' to see a performance of Bambaataa's in the Roxy.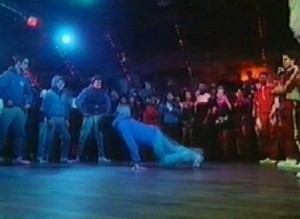 The late 80s saw its bleakest phase with a name change and frequent violence from rowdy crowds. It was saved, like so many dance clubs in New York, by the gay community.
New owner Gene DiNino, having experimented unsuccessfully by renaming the Roxy as 1018 (the combination of its cross streets), brought in promoters Lee Chappell and David Leigh and deejay Larry Tee to debut a gay night on Saturdays, one which eventually lasted sixteen years and would help shape from its partygoers the ubiquitous 'Chelsea boy' type, an aesthetic of well groomed, tightly muscled bodies squeezed into simple, often nonexistent clothing.
According to 'Dirty Sexy Money' star Candis Cayne: "[In the early '90s] I was a kitty girl selling cigarettes and candy. It was amazing! There were drag queens in flawless costumes they worked all week long, and everyone seemed happy. Roxy is one of those 'firsts' kind of clubs—people did things for the first time there."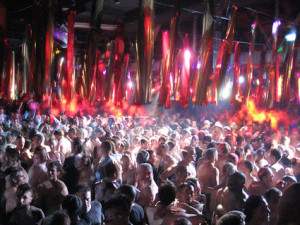 The Roxy defined the modern dance music sound of big beats and wailing divas, woven into epic evenings of glittery debauchery. Party promoters such as John Blair and Marc Berkley would amp up the energy with lavish themed parties and deejays known the world over — Victor Calderone, Junior Vasquez, Peter Rauhofer. It was almost imperative for pop stars to sweep through for an 'improptu' performance — Beyonce, Cher, and Madonna singing (or syncing) just feet from hundred of frenzied, sweaty fans.
Lest anybody feel they still needed to strap on some roller-skates, never fear. The Roxy still hosted roller-disco one night a week. Skaters made their last pass under the disco ball the week of March 10, 2007. Like everything it seems these days, the Roxy will be turned into luxury condominiums, following the fates of the Tunnel, the Palladium and many other popular 80s and 90s dance spaces.