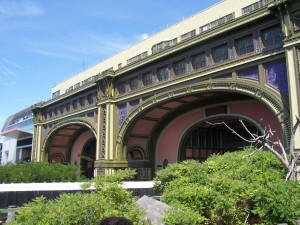 (Battery Maritime, from the back)
That precious jade little music box with a copper top sitting next to the brand spanking new Staten Island Ferry terminal is about to get yet another makeover.
The Battery Maritime building, now landmarked, has probably been one of downtown Manhattan's most mistreated buildings. There are probably a few reasons why this Beaux-Arts confection, finished in 1909, has been so maligned. It was designed by William and Morris, not exactly one of New York's great design firms. (They're responsible for a few lesser known buildings along Riverside Drive.)
Its primary function, as a ferry terminal for vessels to and from 39th street in Brooklyn, was eliminated in 1938 and lent to various private operations. Its second floor waiting room, with its grand ceilings and columns, hasn't been open to the public in decades. At some point its most dazzling detail, a glazed glass ceiling of sparkling stained glass was, according to NYC Architecture, was unceremoniously demolished and built over.
It basically sat abused like some old jewel case washed up from the East River. Fortunately its been completely refurbished in a 2001 $60 million makeover that gives its pale green skin a glossy restored finish. However its vast upper floor remains unused. And its three slips are used only for minor ferry use, such as the Governor's Island ferries — which don't run outside of spring and summer months.
However it looks like the Battery Maritime may get seriously modernized if the Dermot Company have their way. They intend to install a glass-coverd hotel on the upper floors, a rooftop restaurant, and a gourmet market down below. The community is all over the board about it; according to Gothamist, architects love the idea, the Historic Districts Council hates it, and everybody else seems to want something in between.
One thing for sure — this battered green lady is finally getting the attention she deserves. Before jumping to too many conclusions regarding a potential radical re-design, keep in mind that it sits by the new, wildly dramatic Staten Island ferry terminal — once slotted to have a gigantic electronic message board slapped across the front.