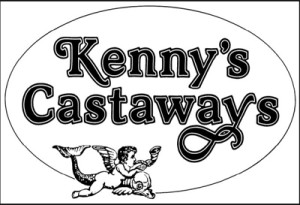 To get you in the mood for the weekend, every Friday we'll be celebrating 'FRIDAY NIGHT FEVER', featuring an old New York nightlife haunt, from the dance halls of 19th Century Bowery, to the massive warehouse spaces of the mid-90s. Past entries can be found HERE.
The rapid transitional personality of a New York City building tends to write over the juicier bits of its past. Will we remember CBGBs 20 years from now when it's a fashion boutique? Do the college students down at the Palladium NYU dormitory in the East Village know what their building's named after?
When Patrick Kenny opened Kenny's Castaways in 1967 at 157 Bleeker Street, he certainly knew he was settling down onto the equivalent of an burial ground of early Village debauchery. And without obscuring the establishment quite seedy origins he would create a bit of history himself.
Patrons slipping into a bar at that address less than a hundred years before would be stepping into what the New York Press (a 19th Century news rag) called "the wickedest place in New York." Being New York in 1890, I suspect there were a few places more 'wicked' in the city; yet The Slide won this notorious title for being a flaunting homosexual dive bar.
You can't trust police blotters and morality crusader sheets like the Press to give an accurate depiction of what The Slide was really like. But even an attempt to peel back the hyperbole gives you a sight that would rival the bawdier Village gay bars of today.
Dive lord Frank Stephenson seemed to specialize in lubricating the underground fringes of society. His Black and Tan bar down the street from the Slide catered to non-white patrons who preferred the flirtation of 'amoral' white ladies (sometimes prostitutes, often thieves). The Slide went a step further, with open displays of men in drag, 'one to three hundred people, most of whom are males, but are unworthy the name of men', performing 'fairies' on pianos, and backrooms of male prostitution.
Homosexual behavior of any stripe would have been condemned in this era; such flagrant and open displays would have been unthinkable. The clientele were 'effeminate, degraded, and addicted to vices which are inhuman and unnatural'. A bar today would be honored to be strapped with such description!
Some of the Slide's patrons went by such names as Princess Toto, Madam Fisher, Maggie Vickers, Phoebe Pinafore and Queen of the Slide. Female prostitutes mingled with the men to create what must have been a dizzying stew of genders, the air filled with cheap booze, wild sex ('orgies beyond description') and tunes banged out on an old piano.
Flash forward almost 75 years. The Slide was closed down by police in 1892 and the building took on a host of different identities. In preparing for opening of Kenny's Castaways, the Kenny family would find the basement cellars — with largely intact evidence of its use as a brothel — almost preserved. Many of the bars floors and fixtures hearken to the 19th century. What Patrick Kenny planned, however, would definitely influence the 20th. Kenny would return the space to its former glory as a raucous bar and host to a very different set of over-the-top characters, while leaving the basic layout of the bar mostly intact.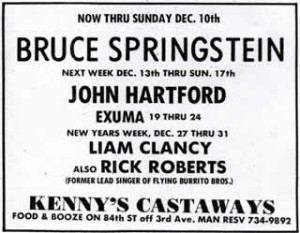 Instead of mincing drag queens, Kenny's Castaways would host up-and-coming rockers and superstars longing to return to barroom performance spaces. Patti Smith, the New York Dolls, Blues Traveler and Aerosmith have all played Kenny's worn stage early in their careers. Two Ramones, DeeDee and Joey, are purported to have first met at a Dolls show here in the 70s.
A young singer Bruce Springsteen performed for a week here in 1973 with his new band the E Street Band. Seven years later Kenny's would hire a house band the Smithereens. Even today the bar hosts a mix of big stars and local cover bands, and all rather discreetly, at least in New York terms. The bar rarely advertises, yet everybody knows Kenny's.
Patrick died three years ago, but the family continues to run it. This year is Kenny's 40th anniversary. I can't help but think that the ghost of Princess Toto sidles up to the bar every night to lord over the festivities with satisfaction.