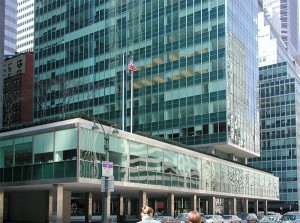 The Lever House at 390 Park Avenue, along with the United Nations building, ushered in New York's obsession with the International Style of architecture in the 40s and 50s — clean and blocky thin glass icons in the sky. It's no surprise to find the building was built in 1952 for a soap manufacturer, the Lever Brothers. The soap has since gone from the interiors of this sleek and cool structure, but they've been replaced with something more bizarre — human and animal gore.
Or rather, the aesthetic purveyor of such gore, the inimitable Damien Hirst. The Satan spawn of the British art scene, whose sometimes seemingly simple work bursts with shock value (and later, high price tags), has been a favorite of patron and German real estate mogul Aby Rosen, who just happens to own the Lever House.
Rosen is an art collector and enthusiast, hiring Whitney Museum curator Richard Marshall in 2004 to spice up the once frigid plaza and the redesigned William T. Georgis Lever lobby with some truly eye catching pieces.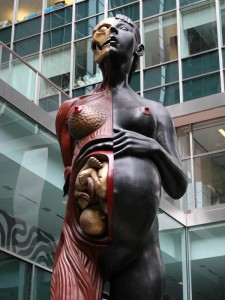 The Lever has already seen such vivid works by artists like Jorge Pardo, Peter Wegner, A.V. Day (a dramatic, fabric-rent 'Bride Fight'), and Jeff Koons (literally many blow-up Incredible Hulk dolls). Corridors within the Lever house works by Jean-Michel Basquiat and Andy Warhol.
But Hirst is the Lever's golden boy, giving the outdoor plaza a striking 34 foot tall naked pregnant 'Virgin Mother' (at left), in the Hirst fashion with most of her skin falling off. According to Interior Design, The lady "looks directly into the Lever Brothers corporate cafeteria." As of last year, she has a twin across the pond in London at Royal Academy of Arts.
Until mid-February, you can catch more Hirst wrecking havoc in the Lever lobby as well. Laboring under the title "School: The Archaeology of Lost Desires, Comprehending Infinity, and the Search for Knowledge," the entire lobby if filled with animal carcasses behind glass, often paired with furniture.
A couple images from the exhibit are below. Why not stop by on your lunch break today?
Photos from Slamxhype by Paul Mittleman