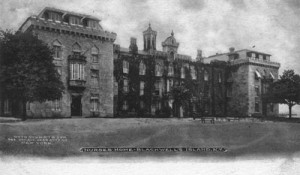 Ugh! The City Room reports a crisis on Roosevelt Island for its most dramatic landmark, the Renwick Ruins. The remains of Blackwell Island's smallpox hospital are to be the centerpiece to the Roosevelt's new Southpoint Park. However last week, part of the north wall completely crumbled to the ground.
Plans to stabilize the ruin, which was granted official city landmark status in 1976, have been dragging ever so slowly. Preservationists fear that the collapse has weakened other portions of the building, which is almost literally a shell of its former self. No floors, only walls, exist at the ruins.
Check out the City Room article for further details, as well as Roosevelt Island 360, who have an email from the Roosevelt Island Operating Company about the collapse. And of course, the Bowery Boys own history of the spooky but captivating place.
Renwick at its Gothic best: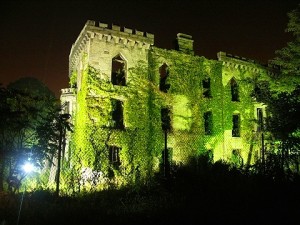 And worst:
The picture below of the collapsed wall, was taken by Judy Berdy, the Roosevelt Island Historical Society's President, courtesy Roosevelt Island 360.