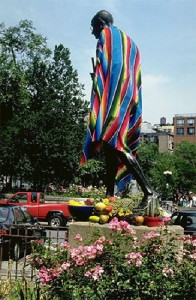 One final note on Union Square — and namely, its newest addition, the statue of Indian leader Mohandas Gandhi ('Mahatma' or great soul). Although his statuary companions in the park George Washington, the Marquis de Lafayette and Abraham Lincoln all have symbolic ties to freedom and revolution, Gandhi is the only inclusion that links directly to Union Square's history as a center of protest.
Frequently robed in flowers or clothing, this bronze depiction of the non-violence advocate has been frozen in his peaceful walk for over twenty years, first installed on October 2, 1986, Gandhi's birthday. The sliver of garden that surrounds him is officially referred to as the Gandhi Gardens and were expanded in 2002 to look just slightly more interesting than your average traffic island.
Interestingly, it is in the exact location of Deadman's Curve, the deadly stretch of cable-car railing that was the site of several deaths in the 1880s and '90s. Today Gandhi could turn left and check out the fashions at the Diesel clothing store. Or turn all the way around and replace those sandals at the Discount Shoe Warehouse. Ack.
You might not expect an worthwhile bird-watching in one of New York's busiest areas, but apparently a group of rare Scott's orioles have recently made Gandhi Gardens their home.
And last October, artist Judith Supine did something rather startling to ole Mohandas.
By the way, that flagpole in the center of Union Square? Installed in 1926, it's reliefed with allegorical depictions of American freedom and the text of the Declaration of Independence. But in actuality, the Independence Flagstaff was intended as a tribute to Charles F. Murphy, one of Tammany Hall's most progressive and ruthless bosses. The public naturally balked. (Washington? Lincoln? Murphy? No.) So it became a monument to the 150th anniversary to the Declaration.