This former English-garden style park became the heart of protest and the labor movement. Join the Bowery Boys as we dig into the history of Union Square, from Book Row to Klein's.
Listen to it for free on iTunes or other podcasting services. Or you can download or listen to it HERE
An old view of Union Place, looking south. The oval shape of the park is readily apparent from this drawing. The park is still oval, but sidewalk extensions and the inclusion of the south 'traffic islands' configure the park into a more rectangular shape.

Two views of the 1861 Civil War rally (or Sumter rally), one from the ground…

…and from overhead.

This is Deadman's Curve, the scene of several accidents due to cable-car operators zipping through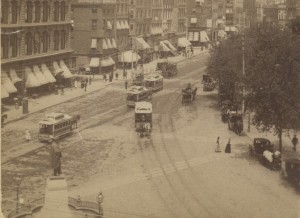 Union Square in 1892, by the American impressionist painter Frederick Childe Hassam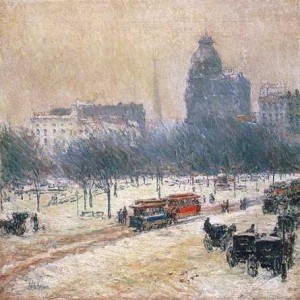 A depiction of the first Labor Day march by the Knights of Labor

Labor leader Emma Goldman was arrested here at Union Square. In this picture, she lectures to an enrapt audience (of men!)

Klein's on the Square — affordable women's clothes dominate the park for decades, until they closed in 1975. It was strangely juxtaposed across the street with the Marquis de Lafayette statue, designed by Statue of Liberty creator Frederic Bartholdi.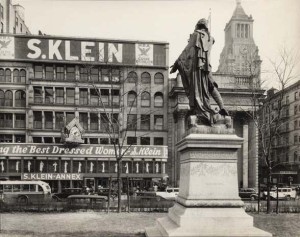 New York also celebrated the first Earth Day here in Union Square in 1970

Union Square is still a popular and often chaotic place for gathering in protest. Last Saturday (March 22nd), over the course of about an hour, saw a large anti-war gathering, with speakers and singers.
People used the rally to air all sorts of grievances. And wear gory costumes.

Not thirty feet away, this flower seller was offering his springtime wares.

The Greenmarket stretched from the north side and down along the east side of the Square.

At 3 pm, almost as though in opposition to the war protest, people battled in a gigantic pillow fight

Now compare those pictures to this one of a Union Square crowd in 1910:

And finally, an extraordinary panoramic view of Broadway from Union Square … via 1890! Click to get a closer view