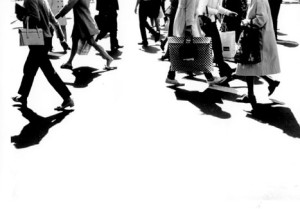 This is your last week to go check out Street Dance, a romantic and wistful collection of New York black-and-white images by Rudy Burckhardt, at the Museum of the City of New York.
Burckhardt was obsessed with the city's scale and motion, finding it frustrating in his early days in the city to properly frame his shots. (The early abstracts, featured in this show, are only fascinating in context of his later work.) His inspiration in the 40s and 50s came from capturing motion, of people bustling along a pavement or riding in a subway. He would often take pictures using a hidden camera, thrust into a subway car during rush hour. One of my favorates (below) captures one of Burckhard's more disgruntled subjects.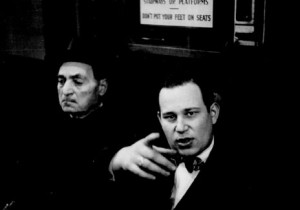 He would satisfy his more literal craving to capture motion with a series of short documentary films, several of which are on display at the museum.
He rarely took more than a few exposures of a given image, even with buildings, his philosophy being that its moments are as equally distinct as the hurried traffic of a sidewalk. His favorite subject, the Flatiron Building, is seen in a dozen different angles in this gallery, many from reflections in rain puddles, or overhead, given the already enigmatic building an even more mystical, alien shape.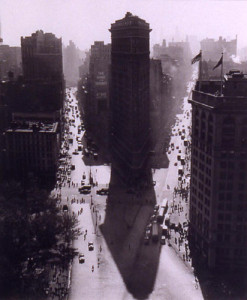 What I particularly loved about the show was the juxtiposition of his early work with his later 70s work, capturing the faces and fashions of past eras. In all of them, the grit and normalcy hold a kind of romance. My two favorite subway pictures embody the city at its best: a shot from the 50s featuring an older woman by herself, pensive, deep in thought, meloncholy; and an early 70s photo of a beautiful young woman in trendy clothes and an afro, energetic, fashionable, renewed.
The exhibit runs through this Sunday at the Museum of the City of New York.
Burckhardt was also the subject of an exhibition at the Museum of Modern Art's temoprary Astoria home back in 2002. The exhibit actually focused on his photographs of Astoria; the website features a film he made about the Brooklyn Bridge.
Both the New York Studio School and New York University's Grey Art Gallery have hosted exhibitions of his photographs in recent years.