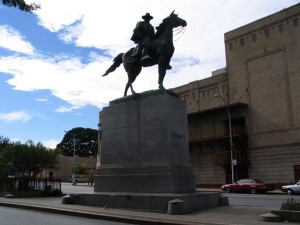 Okay nobody may ever honor our current president with a lavish equestrian statue, unless it's a joke and he's wearing a cowboy hat. But military tradition and the neo-classical and Beaux-Arts predilictions of the late 19th and early 20th centuries slapped many commanders in chiefs onto a saddle for decoration. New York city has five such statues of four presidents:
The first and most famous is first president George Washington looking down Broadway at Union Square, created by Henry Kirke Brown in 1856 (before the events honored by all subsequent presidential equestrian statues even occurred!)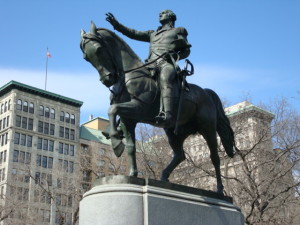 The arch at Grand Army Plaza hosts two different presidents, placed here in 1896. Although John Duncan (later of Grant's Tomb fame) would design the arch, the presidents are sculpted by William Rudolf O'Donovan. (The great painter Thomas Eakins meanwhile sculpted the horses!)
The 16th president, Abraham Lincoln rides on the left (although he certainly never fought in any Civil War battles):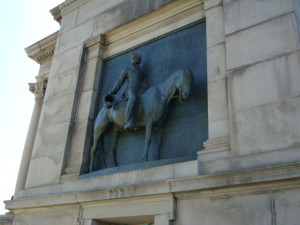 And the 18th, Ulysses S Grant: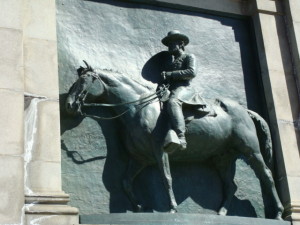 Grant has a far more flattering depiction on horseback not terribly far away from this one, on a traffic island in Crown Heights (the picture at top), designed by William Ordway Partridge and planted here, also in 1896. As Grant's Tomb would be opened the next year, clearly Ulysses-mania was in the air!
Finally the 26th president Teddy Roosevelt gets his honor with a politically incorrect bonus — a 'proud Indian' and a 'noble black man' astride him.
James Earl Fraser sculpted the bronze which was dedicated in 1940. Upon closer inspection of the statue's unusual characters beside him finds that they are supposed to represent Africa and the Americas, with the two men guiding the former president. Also note that it appears that Teddy is about to reach for a gun, making this by far the most unusual of the presidential equestrian statues in the city.
The statue is placed here because Teddy's father is one of the founders of the museum, as well as a tribute to Roosevelt's careers as a historian and explorer.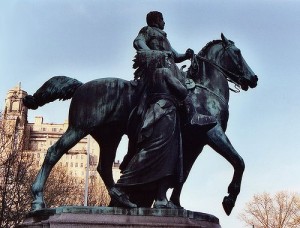 Roosevelt once justified his slaughter of over 10,000 wild African animals by saying, "I can be condemned only if the existence of the National Museum, the American Museum of Natural History, and all similar zoological institutions are to be condemned."