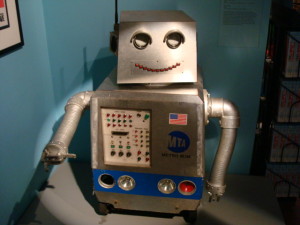 We're in the midst of the Transit Museum's celebration of the 25th anniversary of Metro-North, that critical commuter train service for thousands of up-staters who work in the city. It's worth a brief trip to the Transit's Grand Central location to check out some of the artifacts, including what to me has to be the star of the show: the robotic corpse of Metro Man.
I cut this directly from the MTA's site: "Metro Man has been on staff at Metro-North since 1983, traveling across the region to educate school children about railroad safety and teaching them the difference between diesel service and third rail power. Inspired by Star Wars' R2-D2, Metro Man's movements and speech are operated by remote control. Over time Metro Man's territory has expanded from communities on the Upper Harlem line to the entire region served by Metro-North."
What a very specific service Metro Man provides. I'm pretty sure the ulterior motive here is to prevent children from playing hopskotch near a hot third rail.
The Metro Man on exhibit in Grand Central is the original model who debuted the same year as Metro-North. However, a more metrosexual Metro Man is still out there educating and freaking out kids: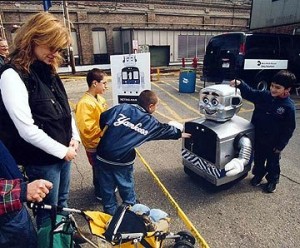 Although neither Matt Stone and Trey Parker are New Yorkers, nevertheless I wonder if they were familiar with Metro Man when they decided on the look of Cartman's Awesom-o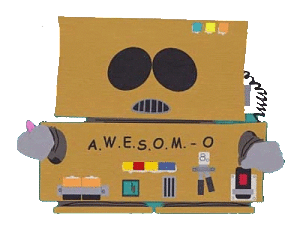 A Railroad Reborn: Metro-North at 25 at the New York Transit Museum Gallery Annex & Store at Grand Central Terminal, in the shuttle passage, just off the Main Concourse, admission is free, through July 6, 2008