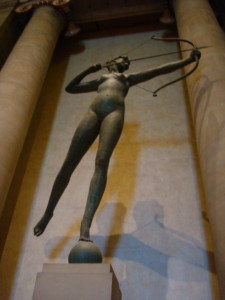 I was in Philadelphia for the holiday but couldn't leave the Bowery Boys behind, stumbling into an attractive nude lady with a connection to old New York.
The Philadelphia Museum of Art, known less for its collections of Thomas Eakins than for its usage in the movie Rocky, holds an old piece of Stanford White's original Madison Square Garden. Standing at the top of the entrance staircase is Diana, a delicate depiction of the Roman goddess by Augustus Saint-Gaudens, one of New York's most important civic artists.
The 13 foot tall woman was placed at the top of the ornate Garden building on 27th street and Madison Avenue in 1893, where she actually served as a weather vane, twisting about on her axis 350 feet above the city. Diana even came with a billowing cape, a 'flying drapery', which would whip behind her during a violent gust. One can easily image her inspiring future comic book writers.
This was only the second Diana on top of the Garden rooftop. Gauden made an even larger version in 1891, but the 18 feet Diana proved to bulky to serve as a graceful vane and was replaced with this one. The original Diana moved to the White City, the famous World's Columbian Exhibition in Chicago, where she was damaged in a fire.
Augustus used New York's most famous model at the time as inspiration for Diana — Julia "Dudie" Baird (seen below), who posed for many artists at the time and whose body has inspired more than a few pieces throughout the city, including the golden Victory at Manhattan's Grand Army Plaza.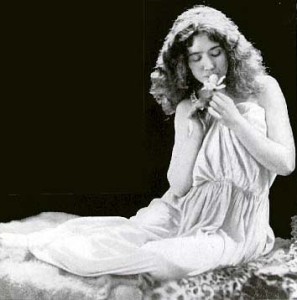 By 1925, White's Madison Square Garden was torn down and moved uptown. Diana was displayed elsewhere for a few years before moving to Philly in 1932, where she has sat at the top of the art museum's stair ever since.
If you've never been to Philly but find the statue somewhat familiar, it's because Saint-Gaudens rendered smaller versions in bronze, including the one most notably held at the Metropolitan Museum of Art (below).