Early engraving of some Bowery b'hoys lolling about a fire hydrant, up to no good
Tomorrow is the one year anniversary of our very first podcast. We just want to say thank you to everybody who has subscribed on iTunes and other podcast services. Our first year has been a huge success and we have a lot of exciting plans coming up for year two!
I know we have some rather massive topics that we've yet to cover (Empire State Building, the subway system, Central Park) but we'll get to most of them in the coming months, as well as experimenting with some more obscure topics.
I'll try and keep updating this blog 4-5 times a week depending on my schedule.
Again, it's been a blast so far and we've got lots of great ideas to keep improving the show. Thanks for letting us go ballistic geeky about this city that we love.
And now, more old New York City fire hydrant pictures. Why you ask? This year is the 200th anniversary of the very first hydrant in the city. Go here for a fairly comprehensive history of these invaluable street features:
Below: more fire hydrant shenanigans, this time from some wacky Lower East Side kids, picture dated July 9, 1936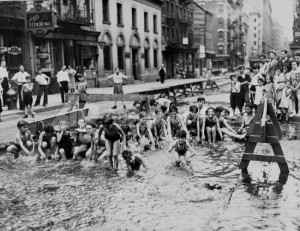 Also from the 30s, a more sedate usage of a hydrant, a father and his son take a sip with the five-year-old Empire State Building in the background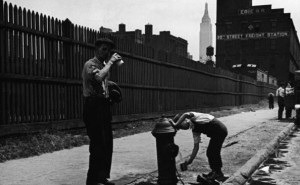 A fireman from 1908 (Photo courtesy Old Picture of the Day)