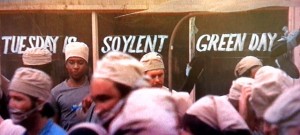 BOWERY BOYS RECOMMEND is an occasional feature where we find an unusual movie or TV show that — whether by accident or design — uniquely captures an era of New York City better than any reference or history book. Other entrants in this particular film festival can be found HERE.
Thirty-five years ago, the future of New York City was bleak indeed.
"Soylent Green" is a noir mystery like so many staged on Manhattan city streets, but its nuances are clearly reflections of its time. The 70s would see a catastrophic financial crisis for the city, with energy shortages and surges of crime and pollution. This film, back in 1973, seems a bit like a dour prediction, albeit overdramatic and cheesy.
The film estimates that by the year 2022, the population of New York City will reach 40 million, which is five times our current population. At least "20 million are outta work," according to grizzled man's-man detective Scotch (Charlton Heston), who takes to the streets to solve the murder of a wealthy businessman. (Ugh, is that really Joseph Cotten?)
As Jeremiah's Vanishing New York has noted, this schlock Charlton Heston vehicle manages to nail one prediction, the naming of "Chelsea West" as an exclusive high-rise-clogged neighborhood for those remaining few with money. Of course, in the film's vision, the High Line is nowhere to be seen and the unrecognizable buildings are surrounded by what looks like some kind of moat or canal.
What these new condos lack in neighborhood charm, they make up for with a rather beguiling feature — free women. Apparently over the next decade, women will revert back to a pre-19th century notion of becoming the property of men, to be installed in a condominium unit like an appliance, even when the prior owner dies. One night, the women decide to have a party, draping themselves over bear-skin rugs, brushing each others hair. When the building manager/pimp finds out, he gets so mad.
This high-rise brothel condo, an unrealized dream of Eliot Spitzer's, also comes furnished by an East Village vintage store, high-tech Asteroids video game included.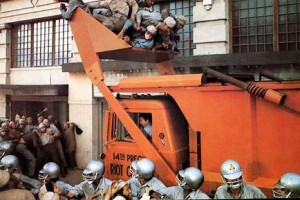 In stark contrast, Scotch visits his buddy Sol in a walk-up tenement straight out some Five Points nightmare, with dozens of people sleeping in the stairwells. Sol is played by that most New York of actors Edward G. Robinson, who might have been familiar with such snug living environment as a young Romanian immigrant who arrived at Ellis Island in 1903. (Said Robinson: "At Ellis Island I was born again. Life for me began when I was 10 years old.")
This schlock Charlton Heston vehicle and moralistic clarion call actually foretells our current state of rampant over-development, as well as environmental concerns (lamented here as 'the greenhouse effect') and a worldwide food shortage.
Sol waxes poetic for the days of excess and cries when he sees a real celery stick and a slab of beef. New York's supply of artificial foodstuff called 'Soylent' — the least attractive food ever to be associated with New York City — is particularly taxed on Tuesday, when there's a shortage of the most popular supplement, Soylent Green. Looking at bit like a Post-it Note, Soylent Green is, well, you probably know what it is. But it's a gas to watch Sol and Scotch uncover the mystery.
Directed by Richard Fleischer (of "20,000 Leagues Under the Sea" fame), "Soylent Green" won't remind you of New York at all, but its fun when they try and shock you with recognizable things. For instance, Gramercy Park has now become the city's only haven for trees — and wan, sad looking trees at that. And I'm sure you'll never look at trucks from the Department of Sanitation the same way again.