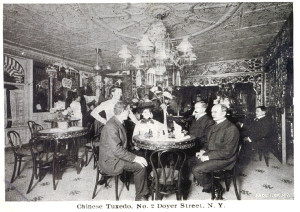 I know that the native cuisine of New York City is officially pizza or hot dogs, but on a daily basis, perhaps nothing is consumed more in this city than Chinese food. There are hundreds of Chinese restaurants in this city; I've got four within a block of my apartment.
Its probably impossible to identify the first Chinese restaurant in New York, but we can take a reasonable guess at its time and place. Chinese men began settling in New York in significant numbers in the 1870s; although population numbers vary widely, conservative estimates list from 200 to 1,100 in 1880. (Luc Sante says 700.) I've also seen numbers as high as 10,000 Chinese by this period, underscoring the difficulty of counting a tight knit, cloistered community.
(I should note that there is evidence that some Chinese men have lived in New York as early as the 1830s, although not in significant numbers to have operated a sustainable eating establishment.)
Most of these men had worked the California gold rush or helped built the transcontinental railroad, later settling in the cities of the East Coast. I specifically say "men" because there were almost no women. One account says there was literally not a single Chinese woman in New York in 1880. That could be accurate; another source says there were only 40-150 Chinese women in 1900.
The first Chinese enclaves sprouted up in Five Points, on Doyers Street between Mott and Pell streets, and another just south of there, on Oliver Street. The first Chinese restaurant, in whatever form, must have opened up here, a variation of the chow chows that had originated in railroad towns and in burgeoning West Coast Chinatowns in Los Angeles and San Francisco. (The first documented Chinese restaurant in America, called Canton, opened in San Francisco in 1849.)
The odd ingredients and strange smells jolted the infamous New York slum. Originally conceived merely for the Chinese community, soon adventurous New Yorkers — progressive-minded "bohemians" — ventured down to try out these exotic flavors of these foreign dishes. Some of the dishes they encountered, like chop suey, were invented here in what would become Chinatown.
Addiction quickly set in. By 1900, there were enough Chinese restaurants for one, Mon Lay Won, to refer to itself as the "Chinese Demonico's."
Given that New York's first Italian restaurants probably also sprung up within just a few blocks, we can thank the slums of Five Points for giving New Yorkers its two most popular and beloved cuisines.