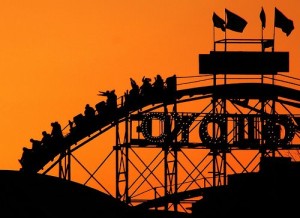 Astroland is once again closing for the final time at the end of this weekend, making way for Thor Equities to begin their new development of the area.
The park's main attraction, the legendary Cyclone, isn't going away however. A functioning roller-coaster since 1927 — and built on the spot of the world's very first roller-coser — the Cyclone is actually owned by New York City parks department. Its been leased to Astroland since the park's opening in 1975 and will return to the city's hands with Astroland's closure.
Less certain is the fate of cheesier rides such as haunted ride Dantes Inferno and the back-pain indusing Break Dancer.
This is a huge dent to the immediate future of Coney Island, but it isn't the end. Deno's Wonder Wheel park stays open through October and will be open as usual next year.
You can read official statement of Astroland's closure at the great Coney Island blog Kinetic Carnival. And relive our podcasts on Coney Island — the golden age and the funspot in the 20th Century including a history of the Cyclone.