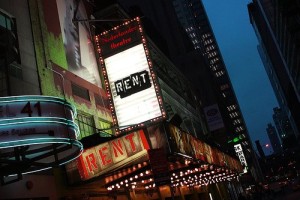 A stubborn group of good-looking, well-meaning squatters were finally evicted last night as the hit Broadway musical 'Rent' closed after 5,124 performances.
The show had become the most peculiar historical time capture on Broadway, freezing forever a musical variation of late 80s/early 90s, pre-Guiliani East Village underground, recalling a time when Avenue B had far fewer condos and trendy bars. Seen now as a history of pre-development, 'Rent' documents a psychic battle most feel the East Village lost — artistic independence in a shrinking bohemian subculture.
'Rent' was written as a tangle of contemporary love stories — based loosely on 'La Boheme' — by Jonathan Larson, the young playwright who died of an aortic aneurysm the day before the show's opening night (January 26, 1996) at the New York Theatre Workshop.
'Rent' moved to Broadway that spring and won the Best Musical Tony, eventually becoming the seventh longest running show in Broadway history. It fell into a ragtag category of edgy downtown shows made good — inheritor of 'Hair'-like passions among fans and setting the stage ten years later of 'Spring Awakening', another sexy, youthful show based on an older source.
It ignited the career of many of its original cast members, chief among them married stars Taye Diggs and Idina Menzel (securing her Best Actress Tony for 'Wicked'). From the show's perch at the Nederlander Theater on 41rd Street, the show literally saw nearby 42nd Street transform from a shiftless boulevard of empty marquees to the most hyper-neon tourist friendly destination on the planet. Slowly, what felt fresh and contemporary turned nostalgic, as the cast's trendy fashions became more and more costume-y as the years went by.
The Tower of Toys made famous in 'Rent's striking scaffolding set has since been demolished. The Life Cafe — scene of Rent's rousing 'La Vie Boheme' — is still around, although when the film version of 'Rent' came around, the roomier bar at 7th Street and Ave B was its stand-in.
I fully admit to being a 'Rent'-head; I saw the show two days after its opening downtown, when the cast was still stunned by Larson's passing and energized by audience and critical enthusiasm. Once the show moved to Broadway, it offered front-row seats for $20, as long as you were willing to literally camp out all night for them. (I did it. Twice. Okay, three times.)
The show now faces its final test — as a musical standard spreading to local theatre troupes all over the world. A national tour has been on the boards for years. Can a bit of the old East Village survive perpetually in suburbia?
Below: Anthony Rapp and Adam Pascal