Our modest little series about some of the greatest, notorious, most important, even most useless, mayors of New York City. Other entrants in our mayoral survey can be found here.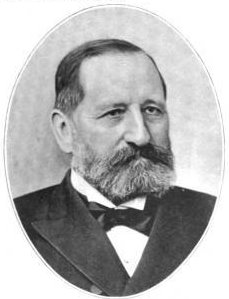 Democrats and Republicans in this year's election who think they can roll into office on the mantel of "change" may want to look at the example of William Lafayette Strong (mayor 1895-97), a reformer who swept in, cleaned up the city … then watched it all fall apart again.
One of the great narratives of New York City in the late 19th century is the dominance of the Democratic Tammany Hall machine in controlling city politics, often seeped in deep corruption.
At key periods, however, Tammany Hall would be usurped from its perch. In the 1870s came the great reckoning to Boss Tweed and mayor A. Oakley Hall. However by the early 1890s, Tammany had regained control of local government and had installed mayors who exhibited various degrees of independence. (For instance, the topic of our last Know Your Mayors column, Hugh J. Grant, mayor from 1889–1892, was firmly in their pocket.)
By 1894, in the throes of a nationwide fiscal depression, outrage at open corruption in the police department prompted the New York State Senate, Republican-led and frequently at odds with city management, to clamp down. The Lexow Commission, named for its chairman Senator Charles Lexow, exposed deep veins of criminal negligence within the New York police department and issued a now-legendary 10,000 page report outlining the most grievous charges.
Republicans and reform-minded Democrats saw their chance to effectively wipe Tammany from the map. Forming a Committee of Seventy (a Biblical reference, as well as one to the group that helped expose Tweed's malfeasance), they rallied their support in late 1894 with a fusion ticket backing a political novice, one William Lafayette Strong.
Like another reformer mayor before him (William Russell Grace), Strong was a businessman made good, an Ohio-born dry goods merchant turned banker whose efficiency and clean record (not to mention prominent position on the influential Union League Club) endeared him to those looking for a clean break from Tammany.
Still reeling the Lexow smackdown, Tammany Hall could only watch their ambitions fold. Against Strong they put up Nathan Straus of Macy's Department Store as their candidate; within two weeks, he resigned, fearing business reprisals. They replaced him with former mayor Grant, but he was no match against the fusion ticket and alliance of German and Jewish voters, which easily swept Strong into office.
Strong went immediately to work, scouring City Hall of bureaucratic buildup and rebooting municipal agencies mired in Tammany cronyism. First on the agenda was a literal cleanup, hiring Civil War vet George Edwin Waring Jr. as the head of street cleaning, an absolutely key element to restoring the city's psychological health. Within a few months, New York's streets — clogged with garbage, manure and other detritus — were as clean as they had ever been.
Strong's most electrifying appointment, however, would put a future president on the road to the Oval Office.
Lexow had exposed the police department's weaknesses, and Strong sprung on this moment for a radical shakedown, hiring a new police commissioner known for his tenaciousness, an also-ran for mayor with roots in New York City — Theodore Roosevelt.
The new commissioner was a dominant force in transforming the city at this time, easily outshining Strong. Roosevelt eliminated anyone associated with prior corruption and installed new programs that would improve efficiency but also confidence among the ranks. Notably he mounted cops on bikes (see below), a quaint notion today, but one that at the time allowed a pervasive presence throughout the city.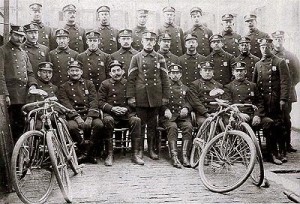 Roosevelt's key ally was not Strong but our old friend Jacob Riis. With Riis' guidance, loathsome and unsafe police homeless shelters were shut down. It was the influence of Riis, through his close associate Roosevelt, that enabled Strong through recently passed state laws to finally tear down the tenements of Five Points.
The New York school system was also getting a thorough shake. In July 1896, Strong and an emboldened state legislature passed the School Reform Law, which for the first time created a centralized education system in the city. Previously, schools were governed by city wards, a practice allowing for uneven educational opportunities and fertile ground for all manner of dishonesty.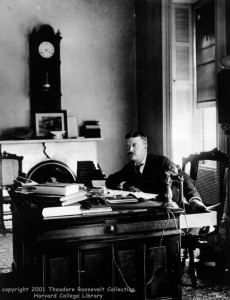 We benefit today from many of the vast reforms initiated under Strong's administration. The effects on his own political fortunes, however, were far less beneficial. Roosevelt had become unwieldy, shutting down saloons popular with the German New Yorkers who had helped sweep Strong into office. The closures of these working class drinking holes were evidence that Strong spoke only for the rich, claimed activists, whose rallies and protests were harshly dealt with by Roosevelt's newly determined police force. Above: Commissioner Roosevelt in his office
By the time the backlash began for Strong and Roosevelt, the commissioner had already resigned, on a naval appointment from William McKinley and a few years away from being president of the United States.
Part of the reason for so many pressing reforms through state government is because of the most important event in New York history — the consolidation of the boroughs, slated to take effect on January 1, 1898. William Strong is the last mayor of the unconsolidated borough of Manhattan, passing over the newly created city to new mayor Robert Van Wyck….handpicked and groomed by Tammany Hall.
Strong was vociferously opposed to the consolidation, thinking it a ridiculous burden to the city coffers, vetoing it even up to the very end. By that time, however, Strong was not seeking re-election, but for decidedly personal reasons. In cleaning up the city — getting it ready for the future — his own business had nearly gone bankrupt. He would die just two years later, in 1900.
Strong left a vastly changed city, newly expanded, and now in the hands of the very group whose prior machinations he had tried so very hard to reverse.
That's politics for you.