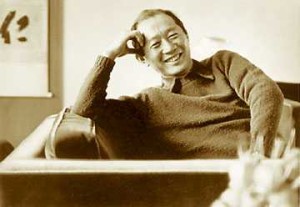 In 1962, Minoru Yamasaki was given an improbable, totally ridiculous task.
Yamasaki, a Japanese-American architect best known at the time for his modernist designs of airports, university buildings and synagogues, won the World Trade Center job in 1962 over more internationally famous architects. He was paired with the prolific Emery Roth and Sons, who had marked Park Avenue with a chilling procession of tall concrete monoliths.
Yamasaki and Roth were commissioned by Port Authority, on an inspiration from the Rockefellers, to build a gargantuan office space on a relatively small area of land — 12 million square feet of usable space over a mere 16 acres, all the while with trains rushing beneath it and the Hudson River right next door.
It would take a balancing act worthy of Philippe Petit(the tight-rope walking subject of Man of Wire who later walked between the Twin Towers) to create something both elegant and functional on such absurd dimensions.
One massive tower over the space would tax even the most expert construction teams and cast a large looming shadow over the city. A cluster of buildings would, in the words of Paul Heyer, "[become] too approximate for their size and 'looked too much like a housing project'."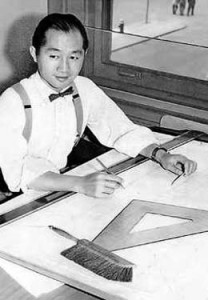 This spacial puzzle, however, proved no match for the exceptional Yamasaki. Born in Seattle in 1912, he worked his way through New York University and into the city architecture scene by sheer genius, during a time in the early 40s when many Japanese American back home were placed in internment camps. He started ambitiously — at Shreve, Lamb and Harmon, who brought New York many great skyscrapers including the Empire State Building — and branched out into his own firm in the 1950s.
He distinguished himself with fabulous buildings in Seattle (the IBM Building) and throughout the Midwest, with a unique Gothic twist to the modernist aesthetic. In a world possessed by International style — with coarse, hard and lean as code words to a new world of architecture — Yamasaki was still a poet who eschewed pure brutality. Interestingly, for the World Trade Center, he was paired with New York's main liners of architectural brutalism, Emery Roth, who never saw a slab of concrete he didn't like.
Below: the IBM Building in Seattle, in many ways a practice run for the Twin Towers in its linear form and simplicity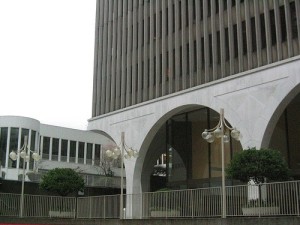 Balancing his own principles with Roth's, taking an impractical situation presented by Port Authority and the vast budget (eventually $900 million) attached to it, Yamasaki decided that to balance it all meant a physical symmetry — two buildings standing side by side, with an open plaza in between so that the sheer immensity could be admired.
Construction on the towers began in 1966 and the second tower was finally completed in 1973. By then, Yamasaki and his firm would scatter great buildings all over the world, working right up to his death in 1986. But although he would be known as a visionary architect, the World Trade Center was his only building for New York City.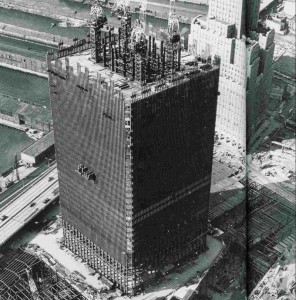 "World Trade Center should, because of its importance, become a representation of man's belief in humanity, his need for individual dignity, his beliefs in the cooperation of men, and through cooperation, his ability to find greatness." — Yamasaki
Below: Mere anticipation at the greatness of the World Trade Center planted Yamasaki on the cover of Time Magazine in 1963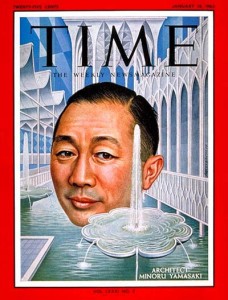 Click here for our recollection of September 11, 2001 from last year.