Our modest little series about some of the greatest, notorious, most important, even most useless, mayors of New York City. Other entrants in our mayoral survey can be found here.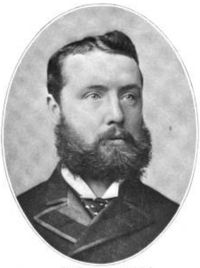 The year Carnegie opened his illustrious Music Hall to the delight of New York's cultured class, the city's fate was in the hands of the youngest man ever elected to the office of mayor — Hugh J. Grant.
Although there would later be a man elected to job unofficially called 'The Boy Mayor of New York', Grant would be 31 years old when he finally stepped into the job. A stalwart of the Tammany Hall machine, the young Irish-Catholic worked his way through the ranks, from alderman in 1882 to sheriff in 1885 and graduated from there to mayor in 1889, where he stayed in office for two two-yera terms until 1892.
Grant was defeated in earlier attempts for mayor by businessman and reform Democrat William Grace. When Grant ran again in late '88, he successfully defeated Abram Hewitt, thanks to the machinations of new Tammany 'Boss' Richard Crocker, who had personally grown weary of Hewitt's independence. Grant would be a far less wily pawn.
At this point, I should quote at length the unreliable and heavily biased but enjoyable description of Grant, according to a 1922 chronicle: "Unfortunately in 1888 Hewitt was defeated by the old Tammany favorite, "Hughie" Grant, and corruptions returned to their former power and spoils. Worst of all, Grant's election was accepted without alarm, and even with satisfaction, by the educated classes.
"The new Mayor, an ignorant and unprincipled son of a saloon-keeper, was given 'social recognition,' asked to dinner in the best circles, and opened a ball with Mrs. Astor. When he said, "If I don't prove a good Mayor, it will be because I don't know how," this remark was repeated as if it were a gem of aphoristic wisdom."
Grant was a Tammany loyalist, and enemies sniped that his administration hemmed in spirit to the corruption of the Tweed Ring, which had been taken apart twenty years earlier. It is true that the 'tacit alliance of Tammany, business and underworld went unchallenged' under Grant's hardly watchful eye; however, great city improvements developed rapidly under his administration.
Despite a state legislature probe into rampant city corruption, Grant was easily reelected in 1890.
Grant most notably attempted — and failed — to snag the 1892 World's Fair for New York which he would have planted on the northern edge of Central Park. Instead, the fair was awarded to Chicago, to become the legendary 1893 World's Columbian Exposition, or the fair of the White City.
Below: an illustration of northern Manhattan, 1879 (Pic courtesy Times Up)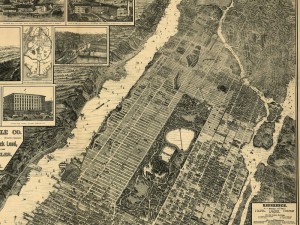 The city's decisions regarding lands that would become the Bronx would also stir up a controversy. Despite technically being outside New York's jurisdiction, development of the Bronx flourished in the 1870s. New York was powerful enough to exert its influence here, acquiring some areas as early as 1873. By 1895, most of the Bronx would belong to New York.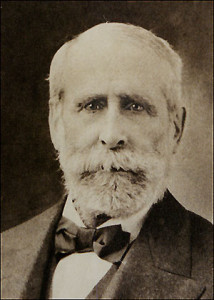 Andrew Haswell Green (pictured right), the influential parks commissioner and proto-Robert Moses who had once bunted Fredrick Law Olmstead from his own Central Park project, exerted great powers in developing outlying regions of Manhattan and had even proposed New York consolidation with the future boroughs long before 1898. Green would grow to become one of the most influential men in 19th century New York. In fact, Green had assisted close friend Samuel Tilden in taking down the Tweed Ring.
Grant was skeptical of these expansion plans, seeing developments of these outlying regions as pointless costly money pits. Like many under the thumb of Tammany Hall, he also disdained the state's involvement in city affairs. Regardless, areas which became Van Cortlandt Park and Pelham Bay Park were bought during his tenure and today a small park in the Bronx is named in his honor. As New York Parks Department cheekily notes "Grant may be the only person who fought against parks who nonetheless has a park named after him."
He didn't resist another innovation that would soon change the fate of New York. Grant would be the first mayor to appoint a "rapid transit commission" in 1890 to develop a subway system.
Grant would pass off the mayor's seat to another Tammany man, Thomas Gilroy, in 1892.
USELESS TRIVIA OF THE DAY: Hugh Grant isn't the only New York mayor who shares his name with well-known 20th Century pop culture figures. Joining him in this lofty honor is Robert Wagner, James (Jimmy) Walker and David (Dave) Matthews.