Our modest little series about some of the greatest, notorious, most important, even most useless, mayors of New York City. Other entrants in our mayoral survey can be found here.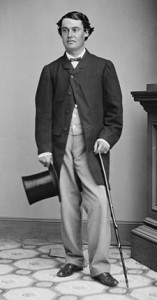 Abram Hewitt could easily be considered a very pivotal mayor in New York City, given the significant development and personal connections he had to the heart of the city. However a shipwreck very nearly did him in before he could even get started.
Hewitt, born upstate in Haverstraw, attended Columbia and taught mathmatics, where he became friendly with a student he was tutoring, Edward Cooper. The two of them later voyaged to Europe in 1844, but on the way back to America, their ship capsized off the coast of Cape May.
He, Edward and the crew were later rescued, but the experience affected Hewitt deeply (and rather vaingloriously): "It taught me…that my life which had been miraculously rescued belonged not to me, and from that hour I gave it to the work which from that time has been in my thoughts — the welfare of my fellow-citizens."
It had a more lucrative effect as well; for Edward Cooper happened to be the only son of industrialist Peter Cooper. Hewitt's bravery bonded him with the Cooper family, becoming lifelong friends with Edward and marrying Edward's sister Sarah.
He helped found Trenton Iron Company with the Coopers and became the first to experiment with the inexpensive steel-producing Bessemer process in the United States.
But politics was soon in Abram's sights, especially with the crumbling of Boss Tweed's Tammany Hall after his fall in 1871. Hewitt reorganized that once-corrupt Democratic political machine with political rewards for himself, elected to the U.S. House of Representatives in 1874.
He even tried his hand at national politics, managing Samuel Tilden's nearly-successful quest for the White House in 1876. Remember this from history class? Despite Tilden winning the popular vote, an electoral fiaso gave the election to Rutherford B Hayes.
As Hewitt held court in Washington — becoming, in Henry Adams' words "the most useful public man in Washington" — his close friend and brother-in-law Edward Cooper would be elected mayor of New York in 1879.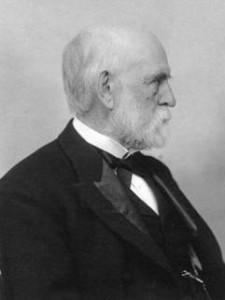 Hewitt's connections in Washington would assist in getting the neccessary attentions brought to the building of the Brooklyn Bridge. Although David McCullough dryly notes that Hewitt might have inadvertantly helped weaken the Bridge by helping deliever the wire bid to Brooklyn native (and total fraud) J. Lloyd Haugh. (More about him in last week's podcast.) Hewitt would give a most stirring speech during the Bridge opening ceremony in 1883.
Finally, Hewitt himself would become mayor of New York City in 1886 during a heated election in which a candidate by the name of Theodore Roosevelt would place third.
Hewitt strong distain for corruption in city politics ran him against his old organization Tammany Hall. He also had strong moral convictions, fighting to keep city saloons closed on Sunday. (This did not endear him to many people.) However, he strongly advocated the creation of new city parks and began work on a much-delayed underground train system — which Tweed's machine had stalled for years. In fact, Hewitt is considered the "Father of the New York Subway."
He was defeated in 1888, partially due to angering the Irish community because he refused to attend the St Patricks Day Parade. (Hewitt tended to be of a more nativist stripe; among other demands, he required all immigrants take a literacy test.)
He spent his later years as a philanthropist, on the boards of the Carnegie Institution and the Museum of Natural History. When he died in 1903, Andrew Carnegie himself claimed the former mayor was "America's foremost private citizen".