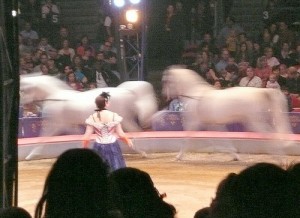 The Big Apple Circus is probably the only show featuring acrobatic dogs and European clowns ever to play Lincoln Center. Well, play next to Lincoln Center.
P.T. Barnum made his name in New York with his American Museum and a host of publicity stunts, but his world-famous circus actually originated elsewhere. However, the Big Apple Circus, which opens Thursday at Domrosch Park, is born and bred in New York City.
If you get a vague 70s disco feeling every time you hear the name Big Apple Circus, that's because its first year was in 1977, a not-so-hallmark time in the history of the city. But amidst the blackout, financial despair and a certain serial killer came this little ray of sunshine, who set up their first ring in patch of landfill that would later become Battery Park City.
Michael Christensen and Paul Binder were jugglers making money on the streets of Paris in the 1970s. They soon found work with the one-ring Nouveau Cirque de Paris, part of a new movement of circus experience with greater cultural influence. Think a precursor to Cirque de Soleil: more ribbons and acrobatics, fewer lions and tigers.
Meanwhile, back in New York, a Russian duo working out of a downtown loft created the non-profit New York School for Circus Arts to train aspiring performers. When Binder and Christensen returned to the U.S, they teamed with the school to form their very own one-ring in the shadow of the recently completed World Trade Center. The first Big Apple Circus featured various trapeze artists, a soon-to-be renown group of Harlem acrobats known as the Backstreet Flyers, and a lively dog act.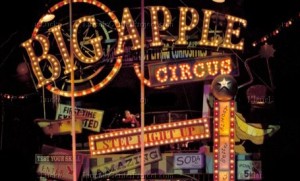 The next year they moved to 8th Avenue and 50th Street and finally in 1980 to their annual home at Damrosch Park near Lincoln Center. With each year they attract larger crowds, but Binder and Christensen would keep the show small. As quoted in a 1982 issue of Time, Binder says, "This is the maximum size I ever want to have. If we were larger, we would lose our intimacy and immediacy."
During this period, one notable performer at the Big Apple Circus would be Phillipe Petit, the "Man on Wire" best known to New Yorkers for slinging a high wire between the Twin Towers and walking it. In 1982, the circus would be featured in the film version of "Annie."
The circus has crossed over into some unusual arenas, even operating an entire floor of clown doctors (CCU, or Clown Care Unit) in the children's branches of hospitals throughout the city.
On tour throughout most of the year, the Big Apple Circus is always back in New York in time for the holidays. Binder, who has been with the show from the beginning, will finally step down as master of ceremonies for good tomorrow.