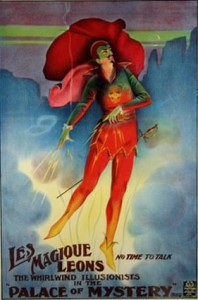 Did you know it was National Magic Week? Please cast thoughts of David Blaine hanging upside-down from your mind and return to the mystical days of illusionists in thick capes, beautiful assistants that vanish in mid-air and, almost forgotten, the rustic old-time magic store, with shelves of mysterious accessories for the amateur conjurer.
New York City had many famous magic stores, but perhaps none more beloved than Flosso-Hornmann Magic or, as it was known when it opened in 1872 (although the official website gives a date of 1875), Martinka & Company. From then until the year 2000, when it was sold by proprietor Jackie Flosso to a company who turns it into an Internet business, it was the epicenter for Manhattan magic lovers.
German brothers Francis and Antonio Martinka brought over their successful "conjuring and toy shop" as immigrants to the New York melting pot in the 1870s, opening Martinka & Company just north of Chelsea on Sixth Avenue. The shop's fabulous slogan?
"The world wants to be deceived, let it be deceived."
The shop featured mechanical monkeys and "automatons" that played chess and the shelves were loaded with camp items as "The Mephisto or Satyr's Head Trick," "The Wonderful Cigarette Paper Trick," and "The Mystic Barrel of Salt."
Behind the displays of magical wares however was a backroom "Palace of Mystery," where budding young magicians would try their hand at more elaborate tricks. Soon, this performance hall would host the city's best displays of magic. And it was here, in 1902, when the Society of American Magicians was formed, an organization which would feature the biggest names in illusion and trickery.
And if you were looking for a good fright here, for a short time, the shop also kept a live lion named Monty. Its owner, the magician known as Carter the Great, had purchased the shop from the Martinka family and kept his own king of the beast on hand for special tricks.
The shop was later owned by a far more acclaimed New York magician Harry Houdini, a friend of the Martinkas who decorated the entrance with a gigantic bust of himself.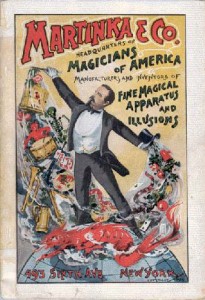 In 1939 the store was purchased by Brooklynite Al Flosso (a theatrical stage name). He had bought magic tricks there as a child and brought his stagecraft to the aging store, keeping it in delightful state of clutter as not to "disturb Houdini's dust." According to an interesting bio page on Flosso, he was "constantly repairing, soldering, building and tinkering with equipment and illusions. Customers could bring in their favorite deck of cards, and, for a nominal fee, have it made into a stripper or Svengali deck. He custom-painted thumb tips to match his customers' skin tone…."
When he died in 1976, his son Jackie took over the shop (and the last name), moving it up to 34th Street and keeping it stocked with magical tools and gags until finally selling it in 2000.
You can visit the website and shop for vintage magic memorabilia, posters and, yes, powerful tricks to amaze your friends!