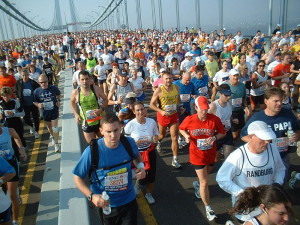 Photo from Flickr
A true five-borough episode! The New York City Marathon hosts thousands of runners from all over the world, the dream project of the New York Road Runners and in particular one Fred Lebow, an employee of the Fashion District turned athletic icon. Find out how he launched a massive race in the midst of bankrupt New York.
Also — our guest host Tanya Bielski-Braham takes us on a speedy tour of the course, from the Verrazzano-Narrows Bridge to Tavern on the Green.
Listen to it for free on iTunes or other podcasting services. Or you can download or listen to it HERE
Fred Lebow joined the New York Road Runners in 1969 and helped turn the marathon into a premier event for New York.

One of the marathon's true superstars, Bill Rodgers (that's him wearing number 3) won the marathon the first four years of its existence as a tri-borough event, from 1976-79. In 1980, he placed 5th, handing the mantle to rising star Alberto Salazar.
A clearly pained Salazar fights his way to the finish line during the 1981 race, on his way to setting a world's record.
Sure, Salazar's good, but his co-winner in 1980, Grete Waitz, would be the all-time New York City Marathon champ, winning nine times. (Pic courtesy Sports Illustrated.)

Rosie Ruiz, looking totally exhausted form feigning her completion of the Boston Marathon. It was later discovered that she had also faked her run in the New York marathon.

The statue of Fred Lebow stands watch for every finisher of the marathon. For the rest of the year, this tribute stands at the Engineer's Gate in Central Park.

Fred and Grete triumphantly cross the finish line in 1992.

A few months after giving birth, British runner Paula Radcliffe ran away with the victory at last year's race. (Courtesy Ed Costello Flickr)
Paula with the men's winner Martin Lel from Kenya (Pic courtesy iaff.org)

Our guest host, Tanya Bielski-Braham, at the completion of the race last year, swathed in a "space blanket"

Go to the New York Road Runners website for information on this Sunday's race, including places to watch it from the sidelines.
I highly recommend two recent releases about the marathon: the book "A Race Like No Other" by Liz Robbins, a great profile on the 2007 race with lots of history nuggets thrown in; and the new documentary Run For Your Life about Fred Lebow, new to DVD this week. You seriously have to check out all the great footage from the 1970s, particularly the shots of the Playboy Bunnies posing for pictures for the 1972 "Crazylegs" race.