Since Barack Obama is the reason we don't have a podcast this week, I thought I might as well spend a few moments looking into Obama's short stay here in New York City, as a Columbia University college student from August 1981 to 1983, and as a community organizer until 1985.
Grandpa and Grammy Dunham visit Obama during his stay at Columbia University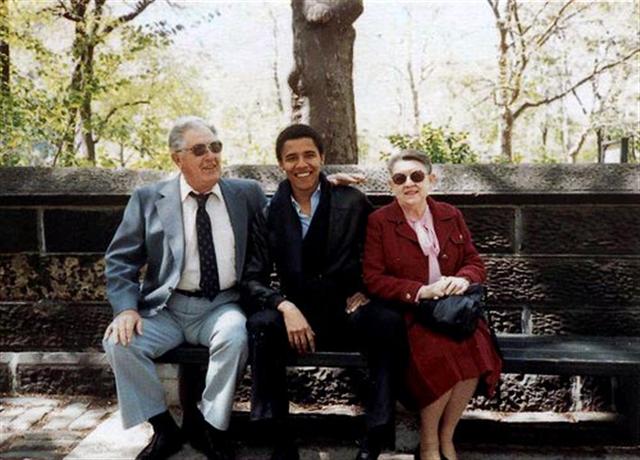 I can hardly think of a better place to get a crash course in race relations and cultural diversity than New York City in the early 80s, and in fact, in Dreams of My Father, he credits his stay here with permanently shaping his perceptions.
His infamous party days and drug experimentation seems to have taken place at Occidental College in Los Angeles, where he spent his first two years. According to Obama, he transferred to the more prestigious Columbia University because he "wanted to be in a more vibrant, urban environment." He graduated with a degree in political science.
Interestingly, there's not much to talk about academically about Obama, as Columbia hasn't released his student records. He doesn't talk about particular students by name, and may in fact not known too many of them.
According to his book, Barack "spent a lot of time in the library. I didn't socialize that much. I was like a monk." During this "intense time of study," he also "stopped getting high" and started running.
And it was here in 1982 that he received a phone call one night about the death of his father Barack Obama Jr in a car crash.
If you're interested in tracing the steps of your future president, here's a few sites to check out:
— Alleyway near 109th Street and Amsterdam Avenue — according to his book, Obama slept here on his first night in town, unable to find an apartment. His infamous tale of bathing in a fire hydrant with a homeless occurs the next morning.
— 339 East 94th –– Obama apparently bounced around several apartments in upper Manhattan. In fact, if you live up there, he might have slept on your floor!
One place we can definitively pinpoint was at 339 East 94th Street, where he says he sometimes sat listening to the soothing sounds of nighttime gunfire. Trivial fact: the landlord of the building at the time, Jay Weiss, was then married to actress Kathleen Turner!
— Butler Library, Columbia University — The foundations for Obama's education into politics occurred here, presumably bent over books until wee hours.
— Business International Corporation (215 Park Ave South) — the current headquarters of the company that employed Obama for a few months after he graduated, paying off his student loans. Essentially a financial newsletter firm for companies wishing to expand overseas, it was here that he "would imagine myself as a captain of industry, barking out orders, closing the deal, before I remembered who it was that I had told myself I wanted to be and felt pangs of guilt for my lack of resolve."
— City College — Obama's first work as a community organizer started here, under the employ of the New York Public Interest Research Group. According to a New York Times article, the group promoted reform on issues like financial aid and mass transit, although Obama reports trying to "convince minority students at City College about the importance of recycling."
— Central Park — See if you can find the exact spot where this picture was taken: