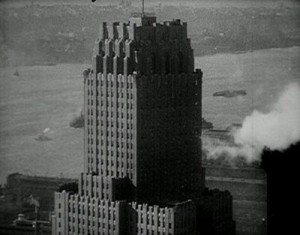 The Sunday New York Times had an excellent article on the restoration of the film Manhatta, purported to be the 'first avant garde film' ever made and one of silent film's great sightseeing tours of New York City.
The film was a collaboration between photographers Paul Strand and Charles Sheeler, with a little help from Brooklyn-ite Walt Whitman, long dead but represented with pertinent works of poetry on title cards between the images.
Although the restored movie is a whopping ten minutes long, the program, hosted by the Museum of Modern Art, will feature other archival New York footage from the early days, as well as a chat with the restorer and curator Bruce Posner. More details on the viewings of this and other films in the To Save and Project series can be found on their website.
If you plan to go, you'll probably want to check out what the film looked like pre-restoration:
And since I'm at it, here's a few views of New York City courtesy of the silent era.
Thomas Edison's early experiments with film resulted in several shorts capturing New York at the turn of the century, including this one, Skyscrapers of New York

One of my personal favorites from 1903 gives us a look at 'The Eighth Wonder', a panorama of the Flatiron Building and its surroundings 105 years ago:
Seven years older and just up the street is this brief glimpse of 'Herald Square 1986'

And for a little sappy melodrama, why not try this 1912 Mary Pickford weeper, the New York Hat directed by DW Griffith, showing the soothing powers of New York fashion decades before Carrie Bradshaw