It got off to a rocky start, but the Plaza Hotel has become one of the most recognizable landmarks in New York City. We take a look at its kooky history, from its days as an upper class 'transient hotel' to a party place for celebrities. Starring: Henry Hardenberg, Eloise, Truman Capote and of course the unsinkable Mrs. Patrick Campbell.
The first "Plaza," as redesigned by McKim, Mead and White, was also a hotel, but it didn't last long. Opened in 1890, it was demolished in 1905 to make way for the far grander vision of Henry Hardenbergh.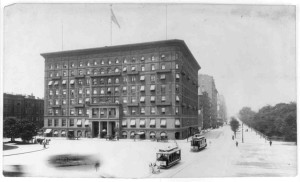 Workmen pause to stand in front of the first Plaza in 1889. Eventually the foundation of the building would not support the lofty plans for the new Plaza, so it had to be entirely torn down.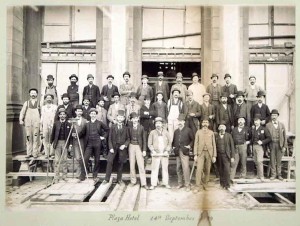 Believe it or not, here's The Plaza in the year it opened, 1907! It looks like it's in the countryside. Note the General Sherman equestrian statue in the foreground.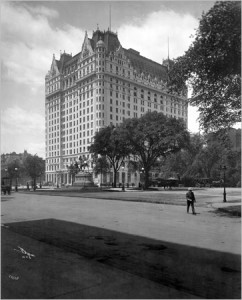 Two shots of the funeral of John "Bet-a-Million" Gates — who basically bankrolled the construction of the Plaza — pulls up to the entrance (on 59th street) of his famous hotel. It's particularly interesting to see the development of buildings further west next to the Plaza. (Photo from Flickr, Library of Congress)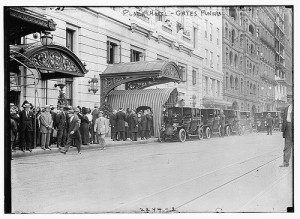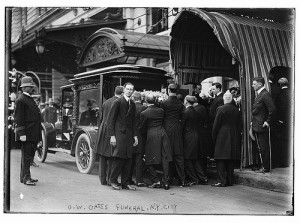 One of the Plaza's immediate appeals was its proximity to both Central Park and the tony residents and luxury hotels of Fifth Avenue. (Picture courtesy of my favorite website Shorpy.)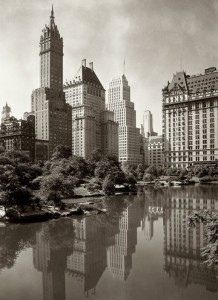 The elegant Palm Court, site of countless afternoon teas and the smoking rebellion of Mrs. Patrick Campbell. The ornate stained-glass dome would be removed in 1944, replaced with an air conditioning unit.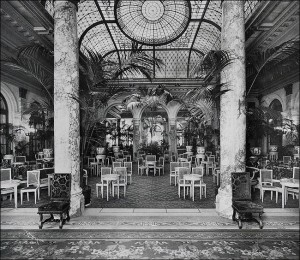 Mrs. Patrick Campbell, poster child for smokers and women's rights everywhere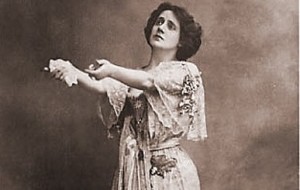 The fabulous Oak Room, probably the most unchanged of the Plaza's public room, is festooned with Hardenburgh humor in the form of alcohol-related carvings. It was a popular drinking spot for the likes of F. Scott Fitzgerald, George M. Cohen, Bill Clinton and Harrison Ford.
The Beatles and the Dr. Joyce Brothers enjoy a campy moment during an 1964 press conference at the Plaza.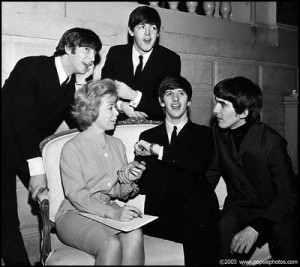 Truman Capote and Katharine Graham greet guests at the totally outrageous Black and White Ball.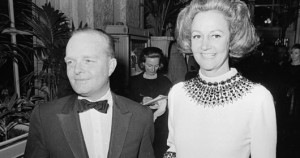 Kay Thompson, later the author of the Eloise books, performs here at the Persian Room:

The Palm Court's stained glass ceiling has returned in the modern renovation.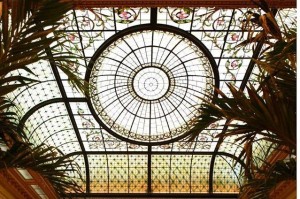 The Plaza celebrated its 100th anniversary last year with an elaborate ceremony.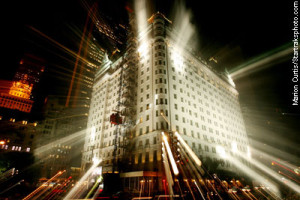 Check out the wonderful book At The Plaza: An Illustrated History of the World's Most Famous Hotel by Curtis Gathje with many more details on the Plaza's different and extraordinary rooms. And look below a couple posts for a picture of Barack Obama with the Plaza Hotel in the background!