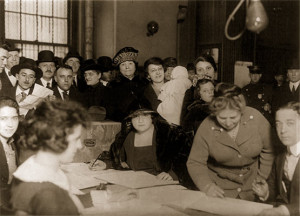 Historic Vote: Women in New York City participate in their first election in 1922 (pic from Women in Congress)
Sorry, it's been a hectic few days and I haven't gotten to update the blog. However I thought you'd be interested in this little piece from Columbia University Press about the historical voting patterns of New Yorkers. An excerpt:
"In the 43 elections from 1836-1904, the Democratic presidential candidate has won 37 times. Indeed, New York City has proven tough for Republican candidates as even Abraham Lincoln lost the city in his two presidential runs. The last Republican candidate to win New York City was Thomas Dewey, who defeated Franklin Delano Roosevelt in the 1944 election."
Gotham Gazette has an intriguing story on the history of New York election law, from the way mayors have been chosen to the reign of Tammany Hall.
And did you know? Two hundred years ago, in 1808, the very first American political nomination convention took place in New York City. Unfortunately, the party throwing it were the Federalists, still stinging from the death of party figurehead Alexander Hamilton years earlier and the ascention of Jeffersonian politics.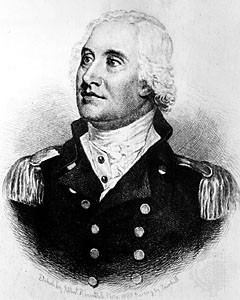 Emboldened by their political machine the Washington Benevolents, the Federalists met in New York in August 1808 and nominated Charles Cotesworth Pinckney (pictured right) for president. Naturally he lost — to James Madison — but the Federalists captured New York's Common Council, one of their last great power grabs before fatally combusting over the war of 1812.