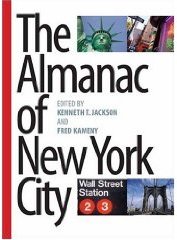 If you're one of those history geeks that get a joyous chill from raw data, charts and lists, then the Almanac of New York, by Kenneth T. Jackson and Fred Kameny, will enthrall you for hours. It's a strange collection of information on New Yorkers, outlining their livelihood, cultural predilections and electoral choices in a dry but addictive format.
Jackson, a former president of the New York Historical Society, delights in defusing the city into reference material, previously editing The Encyclopedia of New York City, a volume that indiscriminately sifted the city's history alphabetically. This time the sorting mechanism is via statistical data, an often taxing but investigative way to look at the city.
The categories range from the intriguing (Causes of Death by Borough) to the truly banal (Employment in Selected Administrative and Support Services and Waste Management and Remediation Services, by Borough). Many of the data is from current census, but history plays a huge role in the almanac, with such entries as the results from presidential elections results from as far back as 1836, and columns of sports stats and Tony winners earnestly placed side by side.
Not every list provides the material for serious insight; for instance, a look of best selling books in New York reveals that the tastes of New Yorkers are sometimes as uninspired as those of the entire nation. (Although, I suppose, maybe that's the insight!)
Here's a sampling of some facts of interest that jumped out of me. The best part about a book like this is that it offers these kinds of factoids each time you pick it up and randomly flip to a page:
— Of elected and appointed city officials, the highest salary goes, not to the mayor, but to the Chancellor of City University
— In 1901, New Yorkers spent twice as much money on alcohol per household ($24) as the rest of the United States ($12)
— Mount Sinai has the most beds of any New York City hospital
— The most dangerous intersection in Manhattan is at Park Avenue and East 33rd street (118 injuries reported between 1995-2001)
— There are more Rottweiler dogs in Soundview, Bronx, than in any other area in New York
As with any almanac, there seems to be dozens of pages of seemingly useless information — useless until, one day, you open it up and suddenly find a use for it. (Obviously, it's that kind of resource.) I know one day I'll have need to know how many labor unions locals have more than one hundred members, or what's the breakdown of physical and chemical parameters in New York city drinking water in 2006. For now, I'll content myself with the lists of parks by acreages, the results of mayoral elections for the past 170 years, and its especially fascinating list of celebrity gravesites.
The Almanac of New York, 528 pages, with a forward by Sam Roberts from the New York Times, on sale everywhere
Starting in 2009, we'll be occasionally reviewing new New York history-related books on this site. If you're a publisher and have any upcoming releases, please let us know by emailing boweryboysnyc@earthlink.net.