The Bowery of 1923, its livelihood segregated from the street by elevated railways.
This is our "potpourri" episode with a little bit of everything in it.
We open up some of our favorite readers mail, we take you behind the scenes of how we put together an episode, and we describe three of our very favorite history-related websites that you should check out.
But it wouldn't be a podcast without some history, right? So we take a brief stroll down the Bowery, with over 200 years of history along this famous street. But has anything really changed?
Listen to it for free on iTunes or other podcasting services. Or you can download or listen to it HERE
Since we're in listeners and readers appreciation mode, here's a few odds and ends that people have emailed us about that you might be interested in:
The New York Public Library just recently uploaded a new video featuring great footage from the 1939-40 World's Fair. Organizers from the fair donated all documentation to the library and is the first place to start for anybody fascinated in its history.
Last year on the blog I spotlighted that massive Douglas Leigh-designed snowflake that hung over Fifth Avenue and 57th Street. One of those who helped Leigh with the design, Hans Clausen, sent me a link to his website with more information. The snowflake will be going up soon!
Jacques Pasilalinic-Sympathetic Compass(quite a name!) sent me a New York centric link from his blog, featuring some great pictures from the little-seen south side of Ellis Island, mostly off-limits and hauntingly abandoned. Including this shot: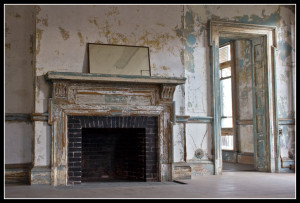 And not that I need to plug that little old paper called the New York Times, but did you see that remarkable before-after sliding thingy they did with Grand Central Terminal, contrasting a 1978 picture of the Concourse with a view of it today?
And finally, thanks once again to Amid and Cartoon Brew for sending us this tale about one of the strangest tombstones in New York City: