One of Manhattan's newest holiday traditions concerns that rather exotic looking snowflake hanging with a seeming precariousness 80 feet above the intersection of 57th and 5th Avenue, a crystalline piece of festivity greeting big spenders on their way into Tiffany's, Bulgari and Louis Vuitton.
This delicate knickknack is actually a bit of a linebacker. At 3,300 lbs (a small elephant) and 23 feet in diameter, its twelve stainless-steel snowflake branches sparkle with 12,000 Baccarat crystals and over 400 small lighting effects to create a truly otherworldly — some would say even alien — presence on Manhattan's richest shopping avenue. I'm sorry, that's HUGE.
Here's what it looks like indoors and hung in a dramatic fashion: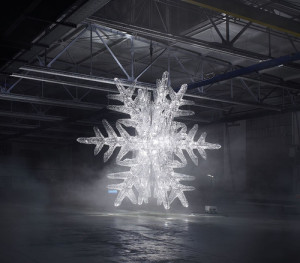 What I didn't realize is that Fifth Avenue has had a gigantic snowflake hovering above it during the holidays as far back as 1984. (See picture below.) Back then it was a slightly smaller model of steel and tinsel and pockmarked with hundreds of 11 watt light bulbs. It was designed by Douglas Leigh, a man midtown Manhattan could never have done without.
Leigh, an old-school showman, was a virtuoso at outdoor lighting display, changing Times Square forever with such living advertisements as the smoking Camel cigarette ad, a Pepsi-Cola waterfall, and a bubbling Super Suds detergent ad spraying suds into the air. He's responsible for the elaborate Wrigley's Gum advertisement at Bond's Clothing store, later Bond's International Casino. In 1976 he designed mechanisms to light up the Empire State Building each night, for the first time in full color, and topped other buildings like the Waldorf-Astoria and the Citicorp buildings. Leigh died at age 92 in 1999.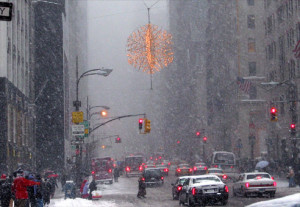 By 2002, his sad snowflake had fallen behind the times. So a new street ornament was prepared, this time called the 'UNIcef Snowflake' to benefit the United Nations Children's Fund. The current creation is designed by renown lighting artist Ingo Maurer. Its very lighting every season brings out celebrities, a miniature version of the Christmas lighting just down the street. This past year's celebration brought out Clay Aiken to switch on the glowing street flake.
And to get the image of Clay Aiken out of your mind, here's one of Leigh's best known creations: