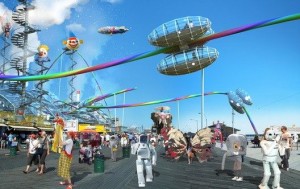 Coney Island of the future: do robots dream of Nathan's hot dogs?
For almost as long as Coney Island has existed, people have had visions to transform it.
Initially a sleepy getaway resort town for artists and writers, Coney Island became the haven of greedy speculators like John McKane, selling up the land for cheap entertainments. It upgraded at the turn of the century with three anchor amusement parks and a viable train system turning Coney Island into a prime destination for city dwellers.
Throughout the 20th century, a variety of developers viewed Coney Island's entertainment industries as obscuring more useful roles. In the mid-century, Robert Moses took it under his wing, transforming former amusement space he considered vile into large, unexciting housing developments. Others like Fred Trump took great delight in erasing Coney's twinkling past but failed to do anything original. Moderate city intervention from mayors like Rudy Guiliani encouraged some recreations (Keyspan Stadium) while eliminating further relics of its crumbling past (the Thunderbolt roller coaster).
With a significant rezoning announced in 2007, the city once again begins to take a stab at reshaping Coney Island's future. The Municipal Art Society counters the city's intention with a highly creative new initiative ImagineConey, a colorful display of potential ideas from the realistic to the bizarre.
The MAS solicited ideas from all over the globe and present the most original ideas on their ImagineConey website and in a special exhibition at the Villard Houses.
Along with some rational re-zoning suggestions, the exhibit presents dozens of potential ideas, from the ambitious (a fabric retractable dome) to the weird ("live human Pac-man"). The MAS's point is to break open the conversation and bring in community ideas. In fact, you can suggest your own on their website. (Sorry, but your idea for "a ten-acre undulating floor" has already been taken!)
Tonight there's even a panel discussion A Serious Business: The Future of Amusements in an Urban Economy, if you want a better grasp of Coney's possibilities. ($15, $12 MAS members. Purchase tickets online or call 212-935-2075.)
The Municipal Art Society of New York is located at 457 Madison Avenue
If you haven't already, you can listen to our two histories of Coney Island — Coney Island: the Golden Age and Coney Island: 20th Century Freakshow.