See these lovely lasses? This is a photograph that ran on the HD photo website Shorpy last week, featuring some chorines from a 1921 Broadway show. "The Broadway Whirl," a lively revue knockoff, played the Times Square Theatre, a 'legitimate' stage at 217 West 42nd Street that was closed in the 1980s. If you're trying to place it today, it's directly across the street from the garish 42nd Street McDonalds.
The theatre opened in 1920, with the 'Whirl Girls' taking to the stage only a year later, in July 1921. According to the original review in the New York Times, 'Whirl' "conform[s] rather faithfully to the popular type of revue. Which is to say that it is rich in girls and costumes, equipped with two good comedians and a variety of talented dancers, full of movement and color, and in the main rather poor in idea."
The Times Square Theatre had a spotty record with hit shows, its biggest coming in 1931 with Noel Coward's 'Private Lives'. It also had nice runs with 'Gentlemen Prefer Blondes' and 'The Front Page' (the basis for the film 'His Girl Friday'). By 1934, however, it was turned into a movie theatre. Which is to say that, by the 70s, it was rich in girls without costumes: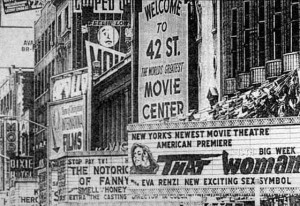 As for the five damsels at top, it doesn't appear that any of them really broke out of the chorus line. Shorpy's has some interesting solo shots of a couple ladies.