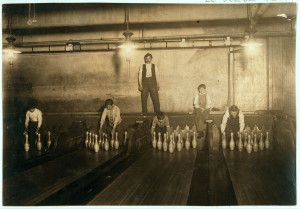 The late-night scene at Subway Bowling Alley in Brooklyn, in 1910.
Take a look here for a brief history of Manhattan bowling alleys.
By the way, Bowling Green in Manhattan? Yeah, they originally bowled there.
Pic courtesy Library of Congress
PS — The caption indicates the bowling alley was at 65 South St. in Brooklyn. I am not personally aware of a South Street in Brooklyn. Sound familiar to anybody? If it was at South Street in Manhattan, that would plant it smack-dab in front of Pier 11.