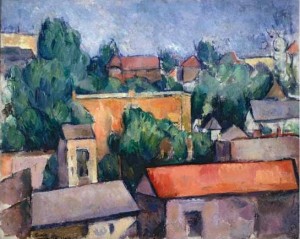 I was in Philadelphia this weekend checking out the outrageously popular 'Cezanne and Beyond' show at the Philadelphia Museum of Art, a diverse program sitting some of Paul Cezanne's greatest paintings next to works they inspired.
Near one of Cezanne's many depictions of the Bay of Estaques is a rather surprising view of old Staten Island. "Landscape, Staten Island" (pictured above) was painted in 1927-28 by Arshile Gorky, a disciple of Cezanne who fled his native Armenia and lived for a time here in New York.
I'm not sure what area of Staten Island Gorky has supposedly painted, as any distinctive features are abstracted into stylized shapes and colors as a virtual homage to Cezanne. However, if you squint, you may be able to see something resembling this old postcard image of the Staten Island neighborhood of St. George.

(Pic courtesy NY Public Library)