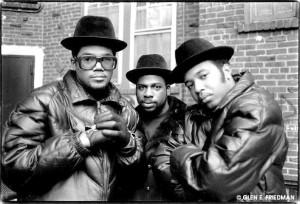 It's like that: Rap pioneers and proud sons of Queens
NAME THAT NEIGHBORHOOD Some New York neighborhoods are simply named for their location on a map (East Village, Midtown). Others are given prefabricated designations (SoHo, DUMBO). But a few retain names that link them intimately with their pasts. Other entries in this series can be found here.
WHERE: HOLLIS — in the southeastern section of Queens. It's next to the much larger Jamaica, a neighborhood with an even stranger origin to its name
This Saturday the hip hop supergroup Run DMC will be inducted into the Rock And Roll Hall of Fame, representing Queens and specifically the neighborhood of Hollis. What may have been an average neighborhood under normal circumstances has become one of the birthplaces of hip hop, starting with music mogul Russell Simmons and his younger brother Joseph, the Run of Run DMC, and continuing today with current hip hop star, Hollis native Ja Rule. Â Run DMC even immortalizes Hollis in their unusual holiday classic "Christmas In Hollis."
Icons of a major musical movement, emanating from such a saccharine sounding community? But Hollis disguises some rather tragic moments in Queens history, its roots reaching all the way back to a horrifying, bloody moment of the Revolutionary War.
In a story now steeped in legend, it was here along the Jamaica road — back when Hollis was mere uninhabited hillside — that one of the Continental Army's great generals Nathaniel Woodhull was brutally tortured by British soldiers.
Woodhull was in charge of the Queens and Suffolk county militias when the British invaded Brooklyn, spreading out along the countryside, pushing back Washington's men, surging towards an invasion of Manhattan island. On that fateful day in August 27, 1776, however, Woodhull and his men were busy herding Brooklyn's cattle east into Queens, ensuring the British had little to eat when they arrived.
While stranded at a tavern on Jamaica road (today's Jamaica Avenue) near the center of today's Hollis, Woodhull was captured and, as legend goes, forced to swear allegiance to England. Instead of "God Save The King" however, Woodhull allegedly cried, "God Save Us All!" For his defiance he was mutilated by British soldiers and died a few days later.
Below: Woodhull receives his mortal blow at Carpenter's Tavern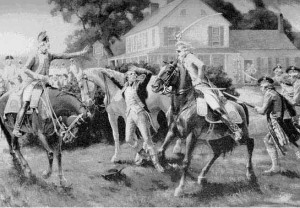 This bucolic land outside of the town of Jamaica would not see much excitement for the next 100 years, the quiet hills and farms being referred only as East Jamaica, the memories of Woodhull's sacrifice its only legacy.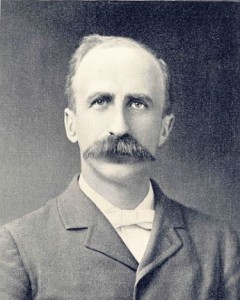 Then came Freddy. That would be Frederick W. Dunton (pictured at right), a young, ambitious and handsomely mustachioed man born with the benefit of calling the president of the Long Island Railroad, during the days of its unprecedented growth, his beloved uncle. 
Dunton
was raised in the New Hampshire town of Hollis and obviously thought the most of it. When he went off to pursue his own real estate development in Long Island in 1884, he grew fond of this hilly area outside of Jamaica and, as an ardent history geek himself, most likely reveled at its importance in Revolutionary War history. He built his house here on a hilltop, sold plots to his friends and called the surrounding development Hollis and
Holliswood
— because there's no place like home, right?*Â 
He also bought and named a community after himself — the now-vanished Dunton, which was later absorbed into today's Richmond Hill neighborhood. (Ken Bausart does some fascinating detective work in digging up the back story.)
Apparently, Frederick is equally as known for something a bit more scandalous — a headline grabbing grand larceny trial in 1896.
The area developed slowly into a comfortable middle-class neighborhood, experiencing a bit of scandal now and then, as when Hollis Hall, Dunton's old home in Holliswood, allegedly became a speakeasy during Prohibition. (An apartment complex stands in that spot today.) Hollis grew slowly and steadily, from 4,000 people in the 1920s to 31,000 people today.
Russell and Joseph were raised here in the 1960s, soon teaming with Darryl "D.M.C." Matthews McDaniels (born in Hollis in 1965) and the late Jam Master Jay** (who moved here in the 1970s), performing together for the first time in 1980. Within four years, they would become rap music's ambassadors to the world, the first rap act played on MTV, selling millions of records and paving the way for mainstream hip hop culture. God save us all.
(Frederick's picture courtesy Dunton.org)
* Â Okay, but if Hollis, Queens, got its name from Hollis, New Hampshire, then where did
they
get it from? Hollis is a
vestige
of British occupation of the entire region. British governor
Bennign
Wentworth
gave the settlement the name Hollis in 1746, after one of his more colorful ancestors John
Holles
, the Earl of Clare.
Holles
was actually one of England's wealthiest men ever; in today's currency, his estate would be worth 5.1
billion
pounds.