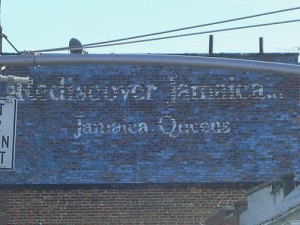 Some New York neighborhoods are simply named for their location on a map (East Village, Midtown). Others are given prefabricated designations (SoHo, DUMBO). But a few retain names that link them intimately with their pasts. Other entries in this series can be found here.
I have a friend of Jamaican descent that lives in Jamaica, Queens. I used to think that was like a French Parisian moving to Paris, Texas. That's wrong, actually. Paris, Texas, is actually named for the French capital. Jamaica, Queens, meanwhile, has almost nothing to do with the Carribean nation that shares its name. (Although many of Jamaican island descent do live in the Queens borough today.)
Jamaica is an English distortion of an Algonquin tribe that inhabited this Long Island outpost — the Jameco Indians (also referred to as the Yamecah tribe). They were named after the Algonquin word for beaver.
The Jameco lend their name to various parts of the city, from Jamaica Bay (the body of water in front of JFK airport) to Jamaica Avenue, a prime extension of East New York Avenue through Brooklyn and eastern Queens.
A pathway between Brooklyn and the city of Jamaica, called the Jamaica Pass, was used to the British's benefit during the war of 1776, sneaking around American forces and chasing them back to Manhattan.
By then, the British were calling the town of Jamaica by its modern name. The Dutch before them, however, had referred to the village there as Rustdorp, settling there in 1656 and officially coined by none other than Peter Stuyvesant. I leave it up to you to determine which of these names sounds like more exciting and vibrant community.
As for the island of Jamaica, it was inhabited by a tribe of Arawak indians, who named their place Xaymaca, which holds the far more flattering translation of "land of wood and water."
Photograph above is from the Fading Ad Blog.