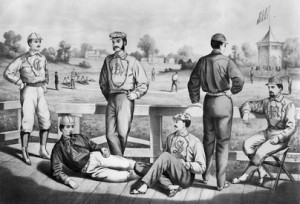 Above: Quite a fancy looking team of baseball players! Note the pavilion in the background. Picture courtesy Brooklyn Ball Parks
I love finding out where very basic, everyday, take-for-granted concepts were invented. For instance, there is some place on the planet I'm sure that heralds as the first place somebody put a straw in a beverage and drank it.
Well, in today's Williamsburg, in a crowded section inhabited by a mostly Hasidic Jewish population, there once stood a baseball field named the Union Grounds with a unique distinction: it's the first to regularly charge spectators to watch a game of baseball.
In the mid-19th Century, Williamsburgh was a fairly new independent city, having divested itself from the neighboring town of Bushwick several years earlier to govern itself. The Union Grounds were actually built on the outskirts of the nearby town of Wallabout, but its location on a large patch of land bounded by Marcy Av., Rutledge St., Harrison Ave., and Lynch St. is today in modern Williamsburg.
Believe it or not, baseball had been a recreation for New Yorkers for over 20 years — a New Yorker even invented it — by the time that William Cammeyer built Union Grounds in 1862 from an outdoor skating rink he owned. It would still be used for ice skating during the winter months.
Previously, field owners made profits by charging teams fees to play. Seating was provided at some fields for fans, and spectators were encouraged to stand around and watch, sometimes even around the very baselines.
Baseball was well organized by this time; the first official baseball league incorporated sixteen teams — most of them from New York and Brooklyn. Cammeyer decided to capitalize on the sports popularity in 1869 by fencing in the field and charging the spectators (a reasonable ten cents) for the honor of watching these top-notch squads in action.
Certain teams gravitated to the Union Grounds, loosely giving the field its own home teams. The Eckfords, a team named after a shipbuilder, were league champions that played most of their games here, as did the Mutuals and the Hartford Deep Blues. The field would continue to host teams in the 1870s, when baseball went 'professional' and paid players and teams would be associated with particular cities.
Apparently the field was still making enough money as an ice skating rink that one certain disruptive feature sat in the outfield during baseball season. According to Brooklyn Ball Parks, an elegant three-story pavilion was planted in the middle of outfield, used during the winter to light up the ice at night. (Below is a page from Frank Leslie's Illustrated Newspaper circa 1865, before the fence went up. However if you click into it, you can see greater detail of the ballfield and this curious feature.)

The field was plowed over on July 1883 and replaced with the 17th Corps Artillery Armory, which still stands there today.
Former location of the Union Grounds: