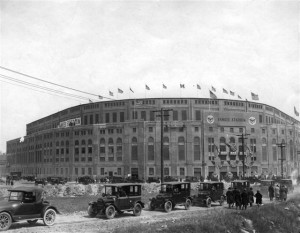 The first Yankee Stadium, all shiny and new in 1923
Today is opening day at the new high-tech Yankees Stadium as Derek Jeter and crew get used to that new stadium smell while fending off the Cleveland Indians. And legendary Yankees catcher and manager Yogi Berra, who turns 84 this year, will be there to throw out the first pitch.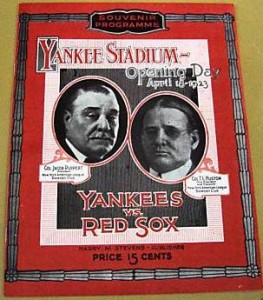 Just two years before Berra was even born, however, came Yankee Stadium's first opening day, on April 18, 1923. Back then, the Yankees were Babe Ruth, baseball's magnetic star whose popularity caused Yankees owners Jacob Ruppert and
Tillinghast L'Hommedieu Huston to built the new stadium in the first place.
But despite the stadium being 'the House that Ruth Built', he didn't throw the first pitch. That honor went to governor Alfred E. Smith, hurling the ball at catcher Wally Schang. The Yankees went on the crush the Boston Red Sox that day 4-2, thanks to an effortless three-run homer from Ruth.
Above: an original opening-day program, curiously with Yankees owners Ruppert and Huston — not Ruth — on the cover
Click here to hear our podcast on the history of the Yankees.