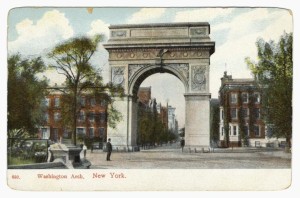 The Washington Square arch, in quieter times
The newly symmetrical, freshly renovated Washington Square Park took down the security fences yesterday, finally allowing people back in to enjoy one of Manhattan's oldest parks.
Gothamist has photographs from the park's grand re-opening yesterday. You might also like to check out our podcast on Washington Square Park — one of our very first shows! — which you can download for free in iTunes or listen to right here, then head on over and take a gander at the accompanying photo page.