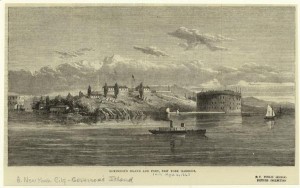 The city reopens Governor's Island this Saturday. Sitting between downtown Manhattan and Brooklyn, Governor's is a five minute ferry ride to a true flashback to New York history. Forts, abandoned military homes, quiet bike paths and wide green fields. It feels like you're strolling through an empty college campus with a magnificent view of the harbor.
But in light of Henry Hudson's anniversary and a statewide celebration of New York's Dutch roots, it's worth remembering Governor's Island's place in the New York's origin story. For the Dutch settled here first — an entire year before permanently setting foot on Mannahatta.
The original Lenape name Pagganuk was translated into the Dutch as Noten (or Nooten) Eyland — both meaning Nut Island, for its thick groves of chestnut and hickory trees.
Much has been made of the original 1624 settlement of French Walloons onto the island, as a symbolic birthplace of American tolerance, as the original Dutch patent for the settlement included a provision that "everyone shall remain free in religion and that no one may be persecuted or investigated because of religion."
If you haven't heard it yet, check out our Governor's Island podcast for some more information. The official site features information on walking tours and upcoming entertainment.
Pictured above: Governor's Island in April 1865