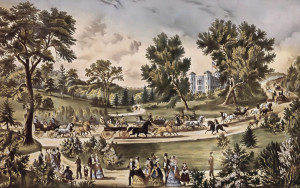 Currier and Ives' flamboyant and unnatural depiction of an afternoon in Central Park in 1869. The building with the flag is the Arsenal, years before it became part of the Central Park Zoo.
We don't have any regular podcast this week; however I am reposting our first Central Park episode called 'The Creation of Central Park, re-launching it in our secondary feed NYC History: Bowery Boys Archive. Images of some of the things we talk about now pop up on your media player while you listen. So if you've heard this one already, you might want to give it another go.
Come with us to the beginnings of New York's most popular and most ambitious park — from the inkling of an idea to the arduous construction. Learn who got uprooted and find out who the park was REALLY intended for. On the 150th year anniversary of the design of Central Park!
PODCAST Download this show it for FREE on iTunes or other podcasting services. Click this link to download it directly from our satellite site. You can also still download the old, non-imaged version here.