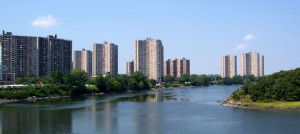 ABOVE Co-op City: the housing development most likely to be seen from space
NAME THAT NEIGHBORHOOD Some New York neighborhoods are simply named for their location on a map (East Village, Midtown). Others are given prefabricated designations (SoHo, DUMBO). But a few retain names that link them intimately with their pasts. Other entries in this series can be found here.
Why are there so many cities in the city of New York City?
New York neighborhoods are often products of their geographic and even geometric environments. They are made of Heights and Estates, Terraces, Channels and Ports, Parks, Hills and Kills, Beaches and Points, Villages and Towers and Gardens, Circles and Squares, not to mention Islands. Some of these name are reflections of the natural environment, others are artificial titles given to real estate properties hoping to lure residents with more natural sounding, civilized names.
But there's actually quite a number of neighborhoods within the metropolitan area with loftier intentions — neighborhoods that have 'city' in their name. Many of them are only cities in the sense of being self-contained housing units. Others are virtual cities, unofficial collections of streets cut off from the main circulation of the city.
But a couple of these places, believe it or not, were once actually self-governing places, their names reminiscent of pre-consolidation days:
Alphabet City, Manhattan
By virtue of starting only at 14th Street, the avenues A through D feel segregated from the flow of the city. Almost from the moment they were carved into the city's grid in 1811, the avenues were home to middle and lower classes. The heart of German culture thrived here in the 19th century, with Eastern Europeans taking it over the 20th. Where calling it a city might once have been derogatory, today as the anchor of the East Village, it underscores its individuality.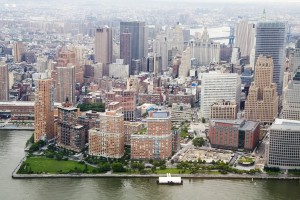 Battery Park City, Manhattan
Like Alphabet City, this lower Manhattan planned community, nearby Battery Park, is removed by geography from the regular patterns of the city; unlike Alphabet, every structure is meticulously aligned with the rest. Created on a bed of World Trade Center landfill, most of BPC is younger than its average tenants, with the first structures only started in 1980. It doesn't feel like New York, which is a benefit for some.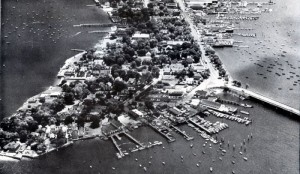 City Island, Bronx
For much of its pre-revolutionary European occupancy, this most New England-y of New York islands was owned by the Thomas Pell family (also owners of what would become Pelham Bay Park and Westchester County, among other things). In 1761, speculator Benjamin Palmer bought the property and renamed it New City Island in a bout of wishful thinking; by calling it a 'new city', he hoped to turn property into a thriving upriver port. Its future residents — mostly oyster farmers — dropped the 'new' from the name.
Co-Op City, Bronx
Still largely considered New York's greatest 'city within a city'. This super-massive housing community, still the largest co-op development in the world, rose from the ashes of failed amusement venture Freedomland U.S.A. (we have a podcast on that ) and opened in 1971. Like a regular city, Co-op City has its history of near bankruptcy, corrupt mismanagement and transportation woes.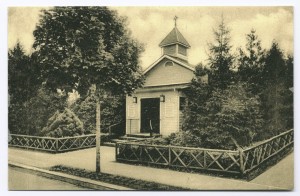 Grant City, Staten Island
This eastern neighborhood of SI is actually one of New York's oldest 'cities', starting off with the rather fancy names of Frenchtown, then Red Lane, before being renamed during the Civil War after the Union's most famous general Ulysses S. Grant. Far from being secluded like other New York 'cities', Grant City sits nearby the borough's most historical communities New Dorp and Richmondtown, as well as Staten Island's highest point, at Todt Hill. (Above, St. Christopher's Roman Catholic Church in Grant City, pic courtesy NYPL)

LeFrak City, Queens
"Live a Little Better" is the slogan of this well-known housing development, started in 1960 and completed in 1969, from real estate mogul and "master of mass housing" Samuel LeFrak, the largest of several residential projects bearing the LeFrak name. The Lefrak Organization began over a hundred years ago with Aaron LeFrak. Samuel's son Richard was recently a judge on the Miss Universe pageant. (Pic above courtesy Life)
Long Island City, Queens
This is one of the only 'city' neighborhoods to actually have, in fact, started as a city. The official Long Island City was cobbled together via charter in 1870 from a cluster of surrounding villages, including Astoria, Steinway, Hunter's Point and others. It had a run of almost 30 years before being absorbed into the newly formed borough of Queens — and the newly consolidated city — in 1898. Among its many colorful mayors during this time of self-rule was one Paddy Gleason, nicknamed 'Battle Axe' for once personally chopping down an objectionable fence owned by the Long Island Railroad.
Starrett City, Brooklyn
Just west of JFK, this large housing development with almost 6,000 apartments sprang up in 1974 and by the 1980s became a controversial model of 'racial quota' rentals. It's recently shed its city status, changing its name to Spring Creek Towers in 2002.
Starrett, by the way, was the name of the development company and, like LeFrak, has nothing to do with the area its built on. The Starrett brothers Theodore and Paul were apprentices of Chicago architect (and creator of the Flatiron Building) Daniel Burnham in the 1890s; much later, their construction company tore down the original Waldorf-Astoria to make room for the Empire State Building.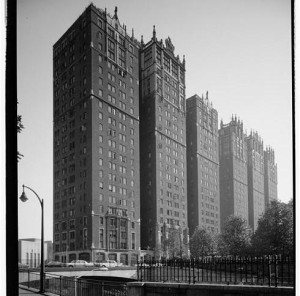 Tudor City, Manhattan
Tudor City is just like LeFrak and Starrett, but with the virtue of being far older and more aesthetically pleasing. Developer Fred F. French swept away a rather dingy set of tenements in the 1920s — the nearby slaughterhouses had yet to be cleared away to build the United Nations headquarters — and hoped to lure middle-class families with the promise of a "human residential enclave".
His risky venture worked, partially because he elevated the buildings 30 feet above First Avenue and creating two 15,000-square foot private parks. Truly a 'city above a city'.