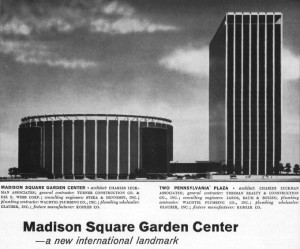 I just caught up on all my Mad Men episodes last night and feel foolish that I never mentioned the episode from a couple Sundays ago entitled 'Love Among The Ruins.' The AMC TV show, set in the early 1960s Madison Avenue ad agency Sterling Cooper, frequently offers us peeks into classic New York landmarks and history.
'Love Among The Ruins' presented a doozy, as Sterling Cooper attempted to woo the Madison Square Garden development firm who was in the process of tearing down old Pennsylvania Station. Upon reading Ada Louise Huxtable's criticism of said destruction plans, from her New York Times column "How To Kill A City," one of the stern faced developers remarks, "People know she's an angry woman with a big mouth."
One of Sterling Cooper's own ad men fails to hide his disgust at the plan — "I don't think it's crazy to be attached to a Beaux Arts masterpiece through which Teddy Roosevelt came and went" — so it's Don Draper to save the day.
"New York City is in decay. But Madison Square Garden — it's the beginning of a new city on a hill." Don sees the Garden job as a way into the World's Fair of 1964, a potential boon to a successful ad agency. Hopefully future episodes of the show will take a stab at depicting this Robert Moses pet project.
Mad Men isn't the only current TV show dealing with New York history. Believe it or not, the kitsch SyFy Channel show Warehouse 13 has used city relics for plot devices. In one prior episode, an ancient Lenape Indian talisman is discovered in a construction dig in the Lower East Side. They even indicate that it's located at Corlear's Hook, although it looks more like Vancouver.
And on last week's show, we found out that the Studio 54 mirrorball actually possesses persuasive supernatural powers. I wonder what powers the man on the moon and his coke spoon have?
You can find a recap for that particular Mad Men episode here and keep your eye out for reruns of the episodes mentioned above.