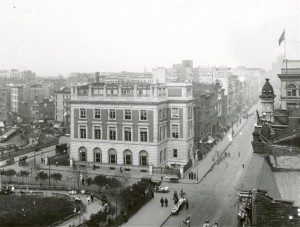 Click picture for greater detail
Above is a picture, facing east, of Seward Park Library in the 'lower' Lower East Side at 192 E. Broadway (picture taken in 1911). This spectacular branch library, funded by Andrew Carnegie, opened in November 1909, two years before the 42nd Street main branch opened. All of the housing behind the library to the east has since been demolished.
The nearby park in the foreground is still there, but the small extension of Jefferson Street which separate them has been turned into a paved, closed off pedestrian plaza. The streets seen in the left of the photograph are completely gone.
The library was built by the firm Babb, Cook and Welch, whose accomplishments from the Gilded Age are seldomly still found today. But, in fact, one of the firm's lead architects William Cook was part of a committee which included Charles McKim (of McKim, Mead and White) and John Carerre (of Carerre and Hastings, who ultimately designed the famous 42nd Street branch) to standardize library designs in the city. Those two better known firms got most of the commissions; however the Seward Park library remains one of Babb, Cook and Welch's best known remaining public works.
During the library's first years, readers were actually allowed onto a "roof garden." According to a New York Times article from 1910, "There will be awnings over the top to shield from sun and the occasional shower; tables around which the readers can congregate, and a network of electric bulbs strung over the top so that there will be plenty of light for the industrious who wish to study."
Below: children and adults alike on Seward Park's roof garden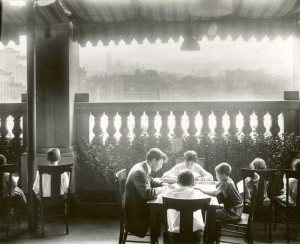 Adults were even allowed onto the roof late into the evening, including "mothers who wish to do their sewing out of doors."
Although this grand structure was placed here in 1909, it was certainly not the neighborhood's first library. Once the domain of the private sector, libraries were provided by philanthropic organizations such as the Aguilar Free Library Society, which began offering a reading room for New Yorkers at this very address starting in 1891.
Aguilar's East Broadway library, "where the readers are nearly all Hebrew," featured over 140,000 thousands books, the most popular being 'Uncle Tom's Cabin' and 'Around The World In 80 Days". This library was sold in 1902 and remade as the building which stands there today.
The Seward Park Library has gone through two major renovations, the most recent in 2004, bringing back most of the building's original lustre. As evidenced by this photo, little around it remains from its original condition.
Of course, children have changed as well. Outside of a reading by Stephenie Meyer, can you imagine this mob scene at a library today? (Photo by Lewis Wickes Hine)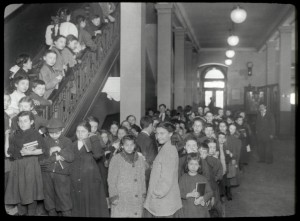 Pictures courtesy NYPL