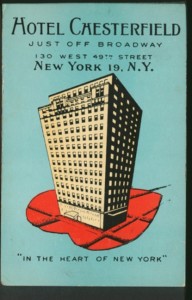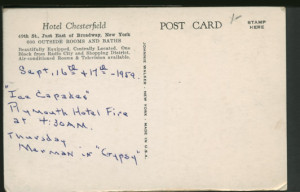 TEXT: "Sept 16th and 17th 1959
'Ice Capades'
Plymouth Hotel Fire at 4:30 AM
Thursday
Merman in 'Gypsy'"
The Hotel Chesterfield (130-136 West 49th Street), built in 1927, was a luxury accommodation conveniently near Rockefeller Center and various Broadway theaters.
The Ice Capades referred to in this card are the well-reviewed Ice Capades program launched at Madison Square Garden. The Capades were a colossally cheesy ice extravaganza featuring music and elaborate production numbers staged upon a skating rink. The Capades played the Garden for decades, eventually dying out by the early 1990s.
The fire at the building across the street, the 18-floor Hotel Plymouth (137-143 West 49th Street), probably wasn't severe. It was built in 1929 and often hosted stars from nearby Radio City Music Hall. Neither the Plymouth nor the Chesterfield are still standing today — demolished, in fact, to make way for a couple severe, International Style structures owned by Rockefeller Center.
At least this visitor got to see something truly historic, at least in the annals of Broadway history — Ethel Merman in her classic performance in 'Gypsy.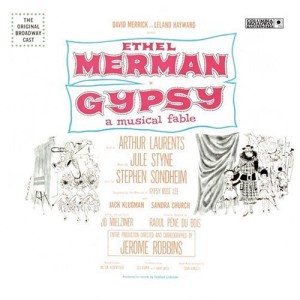 This postcard and many others can be found at the Old York Library