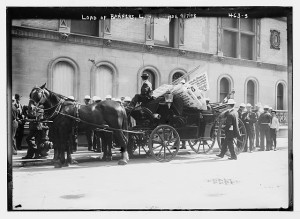 A banner celebration: loading up with signs for the 1908 Labor Day Parade in New York
Labor Day is one of the few national holidays that New York City can lay claim to as their own. The roots of the U.S. holiday began here, with Union Square as its centerpiece, in 1882.
But in fact, New Yorkers borrowed the idea of Labor Day from Canada. Young Peter McGuire, educated at Cooper Union where he met labor activists like Samuel Gompers, was already making a name for himself as an advocate for workers rights as early at 1873, leading sit-ins at City Hall and heading a rally at Tompkins Square Park that was promptly broken up by police.
Workers in Canada were already marching annually by the 1870s. McGuire was invited to speak at one of these events in 1882 and decided to organize a similar event in New York. It's doubtful that his was the only voice in organizing such a massive spectacle; Matthew Maguire, from Patterson, NJ, and secretary of the New York Central Labor Union, is also said to have proposed the date. Given their deep involvement with the CLU, it's safe to consider both men (with such similar names!) as originator of the soon-to-be federal holiday.
That September 5 (a Tuesday, incidentally) anywhere from 10,000 to 25,000 participants marched from City Hall to Union Square and eventually on to 42nd Street. Matthew Maguire led the parade in a carraige he share with none other than Henry Ward Beecher. After the parade, the celebration continued with a massive picnic at Wendel's Elm Park (at 92nd Street and 9th Avenue).
Below: Two of the earliest photos ever taken of a Labor Day celebration, this one from Union Square stands of a 1887 celebration, five years after the first. (Photo courtesy NYPL)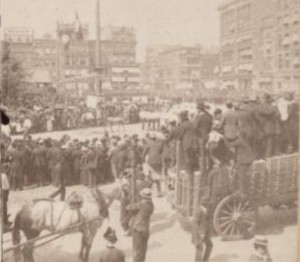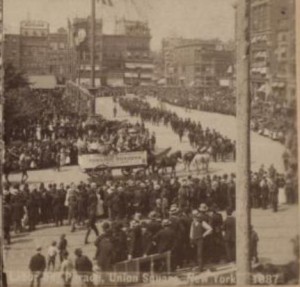 The celebration spread to other cities over the coming years, and by 1894, it was declared a national holiday.
However Labor Day isn't the only day that workers and labor organizations have rallied and protested in New York. In fact, I would hardly even say it's the primary day of protest. That would of course by May Day which is still recognized internationally as a day of protest. Unlike Labor Day, May Day actually originated in the United States. In the late 19th and early 20th century, New York workers frequently organized May Day parades, demanding more reasonable working hours, better wages and safer working conditions. The first of these parades debuted across the country in 1886.
Today in New York, the area around Union Square often sees general protests on the first of May, but Labor Day has virtually lost its meaning. In fact, it's better recognized today as the day of the festive West Indian-American Day Parade.
Below: The first is taken from a May Day celebration in 1909, over a hundred years ago. The second picture is taken from the Labor Day parade that very same year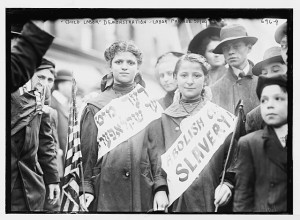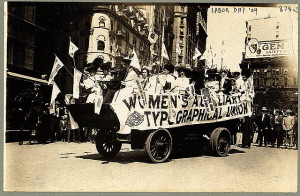 For more information, check out our podcast on the history of Union Square.