Come with us as we jettison ourselves into the future as it was seen in the past — namely the 1964-65 World's Fair in Flushing Meadows, Queens. Fans of Robert Moses, 1960s space-age optimism and really, really large tires should take special note to listen.
Listen to it HERE: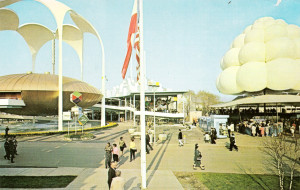 The Johnson Wax Pavilion, surrounded in examples of '64 loopy, futuristic architecture.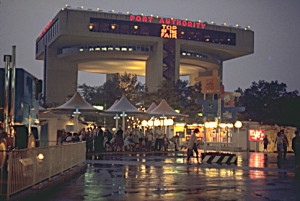 The Port Authority Heliport, where guest could fly in via helicopter from Manhattan, is one of the few buildings still standing today. It is now Terrace On The Park. (Courtesy here).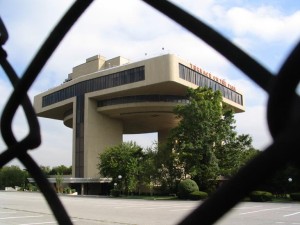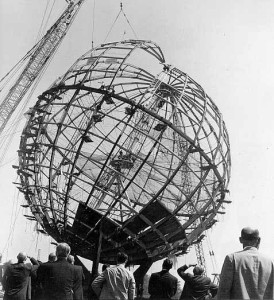 Piecing together the heavy US Steel-created Unisphere.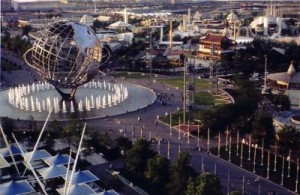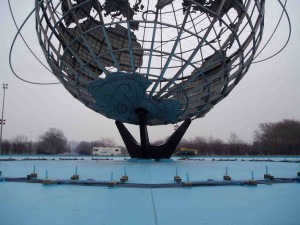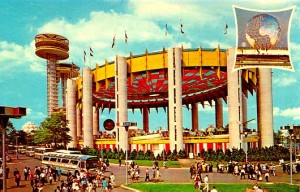 The New York State pavilion — Tent of Tomorrow! — as it looked then: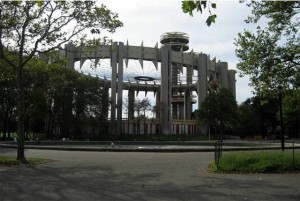 And today.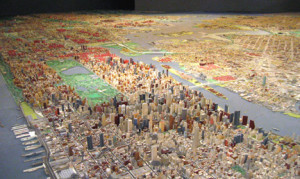 The New York City Pavilion featured the city of New York in miniature. Called the Panorama, it's still thriving at the Queens Museum and is regularly updated to reflect the changing city. One significant difference: as a memorial, the World Trade Center remains standing in downtown Manhattan.

Many attractions from the World's Fair now make their home in other parts of the world. The Uniroyal tire ferris wheel, for instance, now sits in Allen Park, Michigan, without its seats.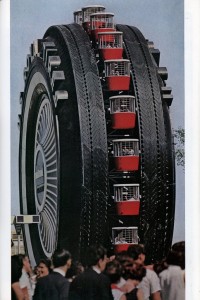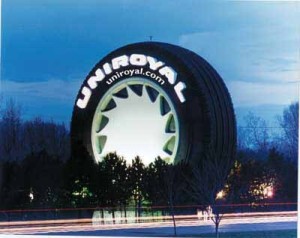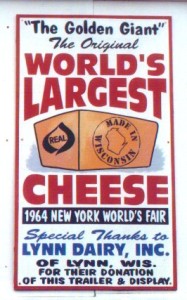 Another favorite, the world's largest cheese, naturally still makes its home in its home state of Wisconsin.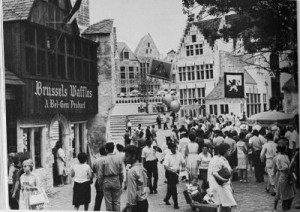 The famous Belgian Village, with the park's defining snack being sold just the left of the picture (i.e. the Bel Gem Waffle).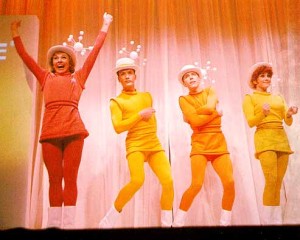 Dupont's zippy musical 'The World of Chemistry' didn't quite make it to Broadway.

I highly, highly recommend a few website for some further information about the World's Fair. NYWF64 has a exhaustive description of almost every pavilion, including a great many we didnt mention, like The Underground Home, Sinclair's Dinoland, and the Lunar Fountain.
Jeffrey Stanton has an excellent site about it as well.
The World's Fair tire pic is from a great page by Modern Mechanix featuring magazine photos from the beginnings of the fair.
A few months ago we wrote about the Singer Bowl, a World's Fair auditorium that later become the Billie Jean King Tennis Center, home of the U.S. Open.
Find all of our Robert Moses coverage here.