Above: a hilariously hideous Robert Moses mosaic, on the sidewalk at Flushing Meadows
Robert Moses wanted the World's Fair of 1964 in Flushing Meadows to be a family affair with little controversial material. Not surprisingly this meant few displays for American art.
So how did an Andy Warhol mural get plastered on the New York State Pavilion, one of the most conspicuous buildings at the fair?
The Pavilion was designed by Philip Johnson, also the designer of Museum of Modern Art's midtown galleries and also the head of architecture and design there. Johnson was an admirer of Warhol's ever since the Museum of Modern Art's pivotal December 1962 show on pop art, where its very merits were dissected by critics.
Johnson commissioned Warhol and other pop artists to create work for the exterior of the pavilion, and the result was 'Thirteen Most Wanted Men', blown-up mugshots of the FBI's most wanted list.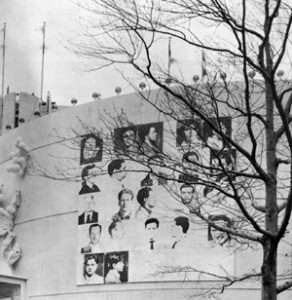 One week before opening to the public, Johnson informed Warhol that the governor objected to the piece, because it just happened to feature mostly Italians and officials feared it would offend Italian visitors.
Warhol, however, knew very well that Moses was behind the objection. And it may not have been anything to do with the content. Andy was becoming a polarizing figure by this time. This was the year Warhol would make his move from artist to icon, the year he opened the Factory, the year he filmed such provocative movies as 'Blow Job' and 'Taylor Mead's Ass', and the year his studios were raided by police and his work confiscated for its offensive content. Andy Warhol was anything but family friendly in 1964.
So his mural was literally whitewashed. Warhol intended to replace it with a new design: 25 silkscreen panels of Robert Moses' face in a Joker-like grin. Unsurprisingly, Johnson did not think this appropriate for the main pavilion of Moses' fair.
A vestige of Warhol's Moses can be found in a mosaic in Flushing Meadows.
By the way, Warhol later claimed in his biography that he was happy that his art was painted over at the pavilion: "Now I wouldn't have to feel responsible if one of the criminals ever got turned in to t he FBI because someone had recognized him from my pictures."