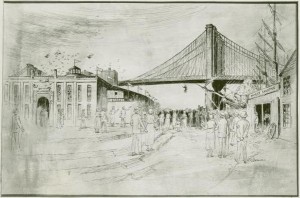 Illustration of Brodie's infamous jump, from a 1939-40 World's Fair brochure George Dessel's Old New York, advertising the Old New York section of the fiar created by Messmore and Damon
Apparently, it's still the rage to jump from the Brooklyn Bridge, as a forlorn soul (or misguided daredevil) plunged off the side last night, according to Gothamist.
The most famous man to jump from the Bridge — tavern owner and theater star Steve Brodie — actually turned his cheap stunt into a cottage industry. But did he really do it? Read more about Brodie's adventures here.